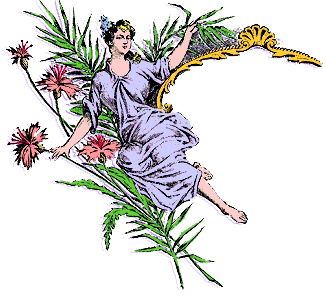 Thoughts of French cheese may lead one to think of one or more of France classic cheeses — Camembert, Roquefort, Gruyère, or others — or maybe to reflect of how General DeGaulle decried governing a nation with so many types of cheese. I seriously believe that if you were asked to name your top five favorite French cheeses, fromage blanc wouldn't be on your list. It certainly doesn't have the cachet of other cheeses. That's a shame. Fromage blanc doesn't have the depth of flavor of other cheeses, but its flavor is still quite interesting.
In France, fromage blanc can be purchased at the local grocery store in tubs. Depending on its intended use, it may be drained or it may just be beaten until smooth. This isn't cured cheese that's been aged — this is fresh stuff — fromage frais. And it doesn't get better if you age it — it goes bad.
For those of us outside the borders of France, obtaining fromage blanc can be problematic. Many countries do not allow the importation of French fromage blanc because it is not fully cured like other cheese. It may be possible to obtain a locally produced fromage blanc, but this can be excessively expensive. Luckily, if you can't obtain reasonably-priced fromage blanc, you can make a close substitute yourself. All you need is fresh milk and a culture to cause it to curdle.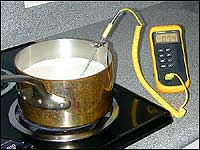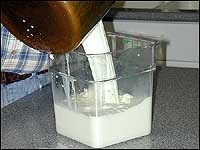 To make your own fromage blanc, start with 2 liters (2 quarts) of fresh, whole milk. Heat the milk to between 22 and 26 °C (72 to 80 °F). [left] If the milk isn't pasteurized, heat it to 80 °C (180 °F) and then cool it to the target temperature. When the milk is in the target temperature range, pour it into a non-reactive (plastic, glass, or stainless steel) container. [right] Note: click on any picture to enlarge it.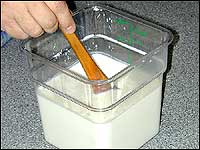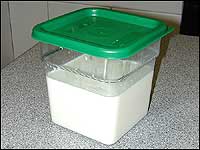 Add the culture to the milk and stir to dissolve. [left] Cover the container and set aside at room temperature for 12 to 24 hours. [right] If you don't have a local source for fromage blanc starter culture, this can be obtained from New England Cheesemaking Supply Company in a powdered form supplied in packets capable of curdling 4 liters (1 gallon) of milk. One packet can easily be divided into two portions with one portion being used and the other saved in a sealed package in the freezer.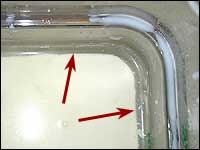 The starter culture contains bacteria, rennet, and an inert carrier. The bacteria eats the milk sugar (lactose) of the milk at room temperature. This produces, as a by-product, lactic acid which gives the cheese its flavor and increases the acidity of the milk. The rennet coagulates the milk. The mass of milk will solidify after a few hours. When the solidified mass shrinks slightly, visibly pulling away from the edges of the container, the coagulation is sufficient. The fromage blanc at this point will look like a block of curd floating in clear whey.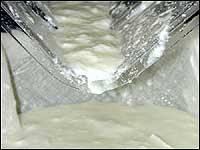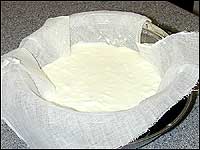 The curds and whey are next poured [left] into a strainer lined with fine cheesecloth [right] The strainer is supported in another bowl to catch the whey. The drained-off whey is discarded as the bottom of the bowl fills with liquid. The fine cheesecloth — called butter muslin — is also available from New England Cheesemaking Supply if a local source is not available.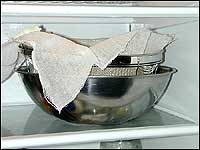 The strainer and bowl are refrigerated during the draining process. How long the fromage blanc is drained is a function of how the finished product will be used. The longer it drains, the firmer it becomes. Initially, it will be necessary to drain the bowl fairly often. As time passes, the rate of whey drainage from the cheese will decrease. The edges of the cheese will stiffen before the center. By lifting the cheesecloth gently on a side, it's possible to determine whether the fromage has drained sufficiently. This drained fromage blanc can be used for fromage blanc au sirop, a delightful and refreshing dessert. Or it can be mixed with herbs to make fromage blanc aux herbes, a quick and easy entrée or a very nice snack. Tarte au fromage blanc is a traditional Alsacian cheese tart made principally from fromage blanc. If there is any fromage blanc left over, this can be used instead of some of the cream in a ganache to make truffes au chocolat et fromage blanc. If the fromage blanc is further pressed under weight to further drain and compress it, it will be firm enough to cut and serve in many different ways. An example is fromage blanc à la verveine, jus à la liqueur de cassis.

©2001, 2014 Peter Hertzmann. All rights reserved.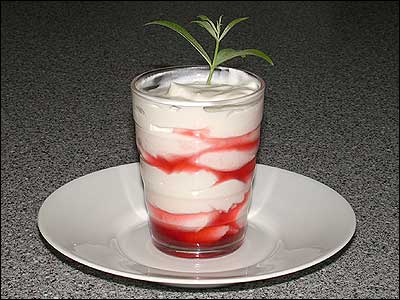 This delightful, simple dessert can be made quickly at the last minute. It is both sweet from the syrup and sour from the fromage blanc. If fresh strawberry syrup is not available, other flavored syrups can be used. Also, fruit coulis or puréed fruit preserves can be used. In its simplest form, fromage blanc is placed on the table along with a pitcher of heavy cream and a bowl of sugar. Each guest creates their own dessert to their own taste.
For each portion, using a spatula, whip together 125 grams (about 1/2 cup) fromage blanc with 1 tablespoon heavy cream. The fromage blanc should be well drained, but not pressed. Layer this mixture in serving dishes with a small amount of sirop de fraises (fresh strawberry syrup) and serve.
I originally ate a dessert similar to this at a Paris restaurant called Les Banquettes Rouge in October, 1994. There it was served with a blueberry coulis. I have since had this dish a number of times with a variety of flavorings. It s always been tasty.

©2001, 2014 Peter Hertzmann. All rights reserved.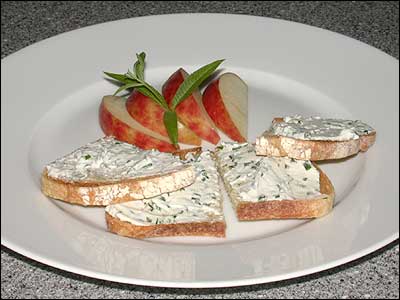 This is a great entrée (starter) for last minute guests — assuming you have the ingredients on hand — this dish can be made and served in a matter of minutes.
For each 2 portions, combine 125 grams (about 1/2 cup) fromage blanc with 1 tablespoon heavy cream until smooth and creamy. The fromage blanc should be well drained, but not pressed. Combine the mixture with a few tablespoons of minced, mixed herbs and a little fine salt and freshly ground black pepper. One combination of herbs to try is a couple tablespoons minced chives, 2 medium minced basil leaves, and 1 medium minced sorrel leaf. Serve the mixture on toasted baguette slices. This dish can also be garnished with a little sliced, fresh fruit.
I've eaten variations of this recipe on a number of occasions in France. The only written recipe I've found, the one used as a basis for the herb combination listed above, is in the French Farmhouse Cookbook by S.H. Loomis.

©2001, 2014 Peter Hertzmann. All rights reserved.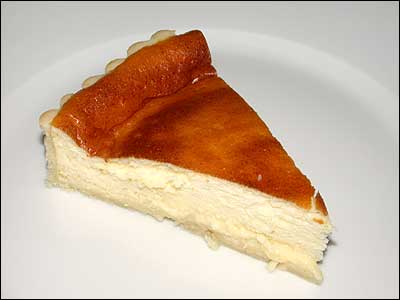 There are countless recipes for tarts made from fromage blanc. The following recipe is a combination of a pâte brisée au sucrée recipe from Linda Dannenberg's French Tarts, page 17, and filling recipe from Bernard Loiseau's Cusine en Famille, page 250. This recipe produces a single tart that will serve 6 to 8 persons.
200 grams
all-purpose flour
85 grams
finely granulated sugar
1/8 teaspoon
baking powder
6 tablespoons
cold, unsalted butter cut into small pieces
250 grams
fromage blanc, drained but not pressed
40 grams
finely granulated sugar
For pâte brisée au sucrée: combine flour, sugar, salt, baking powder, and butter in the bowl of a food processor. Process for 10 to 12 seconds until the mixture is dry and crumbly. Add milk and pulse 12 to 14 times until the dough begins to hold together, but before it turns into a ball. Remove dough from processor bowl and shape into a smooth disk. Wrap with plastic wrap and refrigerate for at least an hour. (The dough may be stored in the refrigerator for 2 to 3 days.)
Bring dough to room temperature. Roll the dough on a floured work surface until it is 3 millimeters (1/8 inch) thick and 28 centimeters (11 inches) in diameter. Transfer the dough to a 22-centimeter tart pan and gently press it into the bottom and fluted sides of the pan. Flute the edges and prick the bottom of the pan with a fork. Refrigerate for at least 15 minutes.
Preheat oven to 190 °C (375 °F).
Line the tart dough-filled pan with aluminum foil and pie weights. Blind bake for 8 minutes. Remove weights and foil and continue baking for 2 minutes more. Set aside to cool before filling.
Preheat oven to 165 °C (330 °F).
For filling: combine the fromage blanc, sugar, vanilla sugar, and egg yolks. Mix milk and cornstarch and strain into fromage blanc mixture. Beat egg whites until stiff and fold into fromage blanc mixture. Pour filling into cooled tart shell.
Bake for about 35 minutes until the filling rises in the center and the top starts to brown. Increase heat to 205 °C (400 °F) and bake for an additional 5 minutes or so until the top is brown and a knife inserted in the center comes outs dry. The top may crack a small amount. The tart will raise considerably as the air captured in the egg whites heats and expands. When removed from the oven, the tart will begin to slowly collapse until the top is essentially flat.
Serve warm or cool.

©2001, 2014 Peter Hertzmann. All rights reserved.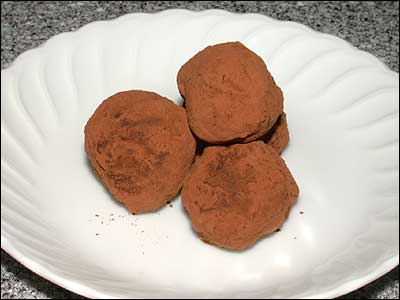 If there's a little fromage blanc left over, these truffles are an ideal way to use it up. Start by making a ganache where some of the cream is replaced by fromage blanc. Combine 60 grams of fromage blanc with 90 grams of heavy cream. The fromage blanc should be well drained, but not pressed. Place the mixture in a small saucepan with a heavy-bottom and bring it to a boil. In the meantime, place 200 grams finely chopped chocolate and 50 grams of diced, chilled butter in a bowl. The chocolate should have a cocoa content of at least 64 percent. When the cream mixture boils, pour it over the chocolate and butter. Mix with a wooden spatula until the solid ingredients are melted and the mixture is smooth. Set the ganache aside in a refrigerator to cool.
When the ganache is cool and starting to harden, roll small spoonfuls into 2-centimeter diameter truffles. If your hands are warm, causing the truffles to melt slightly as you roll them, wear rubber gloves to provide some insulation. Drop the truffles into cocoa powder to coat them. These truffles will last a week or so in the refrigerator. This recipe will make bewteen 30 and 40 truffles, depending on how large they are rolled.
This recipe is a variation of the techniques I learned in March, 2001, from Rémy Janicot at Auberge du Schœnenbourg in Riquewihr, France.

©2001, 2014 Peter Hertzmann. All rights reserved.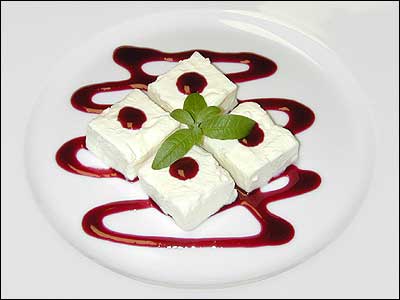 This recipe is adapted from one that was printed in the March, 2001, issue of Cuisine Actuelle on page 37. It uses fromage blanc that has been both drained and pressed. The results yield 4 servings.
fromage blanc made from 2 liters (2 quarts) milk, drained
300 grams
granulated sugar
150 milliliters
white vermouth
3 tablespoons
crême de cassis
4 sprigs
fresh verbena, for decoration
When the surface of the drained fromage blanc against the muslin appears drained and there's not much whey draining off, about 4 hours, transfer the muslin and fromage blanc to a square cheese mold, apply a 1/2-kilo (2-pound) weight, and refrigerate. A makeshift mold [top-left] can be fashioned from a storage container and heavy mesh. Once the fromage blanc and muslin are transferred to the mold, the surface is smoothed with a spatula [top-right]. The excess muslin is then folded over the surface of the fromage blanc [bottom-left]. A weight is created by filling another container with 1 liter (1 quart) water [bottom-right].
When fromage blanc is firm, remove weight and let surface dry in the refrigerator until a few hours before serving.
For syrup: bring water and 200 grams sugar to boil in a saucepan. Remove from heat and add the verbena. Cover and let infuse for 30 minutes. Drain verbena and discard. Chill syrup until needed.
For sauce: Place blueberries in a saucepan and cook over medium heat until very soft. Purée through a food mill. Place 60 milliliters (1/4 cup) purée in a saucepan, with vermouth, crême de cassis, and 100 grams sugar. Bring to a boil and reduce to a light syrup. Chill.

A couple of hours before serving, carefully cut the fromage blanc into 16 squares [top-left]. Coat the bottom of a flat basin with syrup. Arrange the fromage blanc squares on the syrup and pour the remaining syrup over the squares [top-right]. Marinate in the refrigerator for 30 minutes. Carefully turn the squares, and marinate an additional 30 minutes [bottom-left]. Drain the squares on a screen or fine grill in the refrigerator until needed [bottom-right].
Place the cassis syrup in a squeeze bottle and decorate the serving plates. Arrange 4 fromage blanc squares on each plate. Place a small drop of syrup on each square. Decorate with a fresh verbena sprig and serve.

©2001, 2014 Peter Hertzmann. All rights reserved.