à la carte: To start, please tell me how you learned how to cook.
M. Médigue: I think it started with my grandmother. When I was a child I was wondering all the time what she was cooking. So I had an early interest in food. When we had a family gathering, my cousins would always leave the table before the end of the meal, but I would wait because I wanted to see what the main course was. I was all the time curious about food, and when you are curious about something you want to know more.
à la carte: How did you start professionally?
M. Médigue: I was not very good at school. My father didn't want me to become a chef because at this time — over thirty years ago — chefs were somebody with a big red nose, drunk in the back of the kitchen — that was the image before [Paul] Bocuse elevated the image of a chef to where it is today. My father didn't want me to become a chef, so maybe that's why I said I wanted to do it! My grandparents wanted me to be a chef. They had operated a restaurant in the south of France when they were younger, and they had a friend who was a chef at the [Hotel] Négresco, and he said that he would accept me as an apprentice.
à la carte: How old were you then?
M. Médigue: I was 15 years old — a long time ago. Because I was under 16, I had to obtain permission from the president of France to quit school early.
à la carte: In those days, the restaurant in the Négresco was very prominent.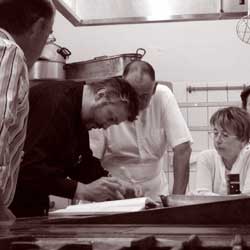 M. Médigue: Yes, it was still the old-style Négresco with thirty people in the kitchen. The chef was in his sixties. The sous-chef was just a few years younger. And most of the chefs de partie were in their fifties. The youngest one — his name was Rodriguez — was thirty-four. Below them were the commis and the [three] apprentices — a first-year apprentice, a second-year apprentice, and a third-year apprentice. The first day I arrived there they gave me a full box of carrots to peel. I took the carrots and a peeler and after ten minutes I had one carrot peeled! I said to myself that it was going to take a long time to do the whole box. But that's how you start.
à la carte: But, obviously you learned along the way. So were you at the Négresco for three years?
M. Médigue: No, I was very lucky. At this time the government wanted apprenticeships to be shorter so I was an apprentice for just two years. (A couple of years later, the apprenticeship was switched to three years long again.)
à la carte: So at seventeen, you were off to another place to work?
M. Médigue: Yes, I went to the Château de Divonne les Bains, a [Michelin] one-star restaurant close to Geneva. I was there for the summer season, five months, as a commis de cuisine. The chef was from the Négresco — he worked here in the summer. After that, I worked the winter season at an auberge called Soleige 1850 la Foux d'Allos. Again as a commis. Then the pastry chef quit just before Christmas. The chef asked me if I knew how to make pastry, and I said "oh, yeah." Every lunch we had 400 guests. The first time I said I'm going to make a nice apple tart. I didn't realize that to make apple tarts for 400 people is a hell of a job! But I did it, and gradually I learned how to produce food in quantity by myself.
à la carte: And you were now about 18?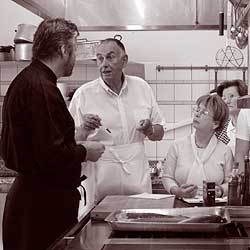 M. Médigue: Yes. So the next summer I went again to the Château de Divonne. After the end of the season, the owner of the château, M. Anthonioz, who was the Minister of Tourism, asked me to replace his cook, who had become sick, at his private residence for a couple of months. So I worked for him for two months. I did everything. I bought the food, cooked it, served it, and even washed all the pots. It was great. I really enjoyed that. After that, when you are 18 in France you have to go into the army. So before I was called up, which would have meant I was sent to some cold place in Germany, I decided to enlist for the minimum, 18 months, and go to New Caledonia. Better weather. That was my first trip outside of France. While I was in New Caledonia, I wanted to go to Australia. I went to the Australian consulate office and they told me, "But you don't speak English." I said, "No." And they asked, "Why do you want to go to Australia is you can't speak English?" So I started studying English at evening classes. After I learned English I decided that I didn't want to go to Australia anymore, so I went back to Europe. Finally, I wound up in London and worked two years at the Portman Hotel [part of the Inter-Continental Hotel chain]. I was 20 years old. I started as a demi-chef de partie. A year and a half later I was sous-chef. Along the way I had become chef saucier. There had been a very good chef saucier there when I came, but he had quit. They tried a couple of replacements, but they all quit, too. So they asked me. So I was [first a] chef saucier and then became a sous-chef as a chef saucier. That was heavy. It was a lot of work. The restaurant had about 130 seats and on weekends, the restaurant was very full. My area of responsibility was the grill, and about of one-third of the menu was grilled items — steaks and fish. Plus every day I had to prepare a full roast prime rib served from a wagon with Yorkshire pudding. And every day there was the mise en place followed by the carving, the grill, the preparation of sauces — I was quite busy.
à la carte: Did you have a commis to help you?
M. Médigue: Oh yes. I had one commis. We had the day shift. There was another person for the evening shift.
à la carte: So after England you come back to France?
M. Médigue: No. I wanted to travel so they sent me to Sri Lanka. I had a contract for two years in Sri Lanka with the Inter-Continental Hotel, but after one year I said I was done. A food and beverage manager, who happened to be French, came from Hong Kong for a vacation, and we became friends. He told he that he would find a job for me in Hong Kong. Six months later, I had four interviews in Hong Kong — the Mandarin, the Inter-Continental, the Méridien, and the Hyatt. I chose the Méridien. So I quit my job in Sri Lanka, but the Méridien wasn't finished yet! I had to wait six months. So I found a job in Paris for six months at the Hôtel de Crillon. After that I left for Hong Kong. I arrived in Hong Kong where I had a two-year contract, but after less than a year, Jean-Paul Bernard, the chief at the Crillon, who was consulting for one of the major hotels in Tokyo, stopped in Hong Kong on a trip and told me that if I wanted a job in Japan, I could have one. And that's how I wound up in Japan for six years. When I quite my job in Hong Kong, I told the general manager what my salary in Japan would be and he said that it was more than he was making, and he wished me luck. Six years was a long time for me. Up until then, I had been at each place for a fairly short period.
à la carte: In Japan, were you actually running a restaurant?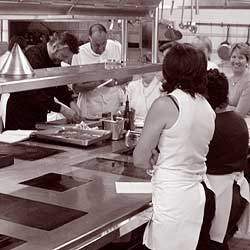 M. Médigue: When I arrived in Japan, I was the chef français. There was also a Japanese chef. I realized after a few weeks that I was the French chef, but I was chef of nothing. He was the chef of the restaurant. I was just there to greet the guests in the restaurant. The food was not the food I wanted to prepare. I said to myself that I would stay one year and then leave. I was making a very good salary for doing almost nothing. I spent nine hours a week studying Japanese with an additional nine hours of homework each week. One morning each week I taught a cooking class for the employees of the restaurant. They wanted me to provide a suggestion de jour for the menu, but they wanted me to provide this a month in advance so they could print it. I said, "How can I give you a suggestion for today a month ahead when I don't know what will be in the market then?" The chef and I were not friends. After one year I decided to ask that my salary be increased by forty percent, [even though] I was already making a very good salary. To my surprise, they agreed. So I decided to stay for another year. But, I was getting upset everyday with the chef. He had a very strange way of working. Plus, he was getting a kickback on everything he was buying. Or he would buy 2000 lobsters and cook them all in the same water — you can imagine how bad the water was by the end. And then he would freeze them. I didn't like this way of working. I couldn't stand it. He was spending too much money on food that was bad and had to be thrown away. At one point, a week-long visit by [Charles] Barrier was arranged. [At the time, Barrier was one of France's premier chefs.] When Mr. Barrier came, after one hour being around the chef, he said to me, "Please ask the manager to send this guy on vacation while I'm here." He couldn't stand him. So I went to see the manager. I said, "Can you send the chef on vacation during Mr. Barrier's week?" He replied, "That's impossible. He's the chef." I said, "If he doesn't go, Mr. Barrier goes. You chose." So they sent the chef to a special class in Tokyo for two weeks. After the two weeks I told the owner, Mr. Obayashi, that I couldn't stay and that I would go back to France to work with Mr. Barrier. But, he wanted me to stay. Mr. Obayashi said, "How about you become the chef and the Japanese chef becomes your sous-chef?" I said, "No, no. I don't want him even as a dishwasher. I don't want this guy in the kitchen, at all." So they fired him, and I stayed on as chef. I was in charge. I had to go to all the meetings. They provided me a secretary because I couldn't write Japanese. And that's how I stayed in Japan for four more years, as a real chef. Of course about half of the kitchen quit — the older cooks. So I built a team from the nine younger cooks.
à la carte: So actually at this point you are already becoming a teacher?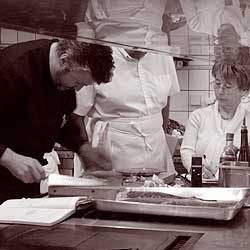 M. Médigue: Even if you have someone join your staff who is experienced, he may not prepare everything the way you want it. If you want someone to do things your way, you have to teach him. There is also this thing in Japan called sensei, or teacher. Even after I became the chef, they still called me sensei. Once a month, I went to [one of] the Japanese schools to teach in a large classroom with 120 students. There was a special table for cooking with overhead mirrors.
à la carte: And you taught those classes in Japanese?
M. Médigue: Yes. They had an interpreter because most of the chefs who were teaching were French. But I realized it was better for me to speak in Japanese because the interpreters usually had a literary rather than a culinary background. They didn't know the words of cooking. They didn't know about food.
à la carte: So that goes on for a total of six years and then you come back to France?
M. Médigue: Well before that, I married Mme. [Pascale] Médigue. She was my little sister's friend. I came back to France almost twice a year. One Christmas, while I was home we met. She took a year's leave from work to live with me in Japan. Then a friend of ours, during one of our vacations back to Besançon, said, "I have to show you something." We visited the château [in Amondans]. And that night I couldn't sleep. The first night of my life I couldn't sleep. I figured out the menu…I figure out everything. We put the numbers together, but they were deep red. The château was for sale for not too much money, so we decided to buy the château no matter what we would do with it. Then we came back to Japan, and I had the idea, with a friend, to make a school at the château. I went to see Mr. Tsuji, a potential partner. But he said he wouldn't be a partner with me. So I went home thinking the school wouldn't be possible. But he called me the next day and said, "I won't be a partner with you — putting the money together — but if you create the school, I will send the students." So I said, "How are you going to sent the students?" He replied, "With a contract. And if you want, after we sign the contract, I will send you some money in advance." This was enough money to start to work on the château. So that's how the school was born.
à la carte: And what year was that?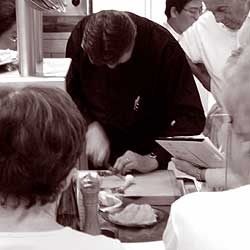 M. Médigue: I left Japan in 1989. We arrived back here on September 27, 1989 — exactly six years to the day after I arrived in Japan. Pascale was in shock. We had a very nice life in Japan. We had a car and lots of invitations. I was a big guy in the company and a sensei. And then we arrived at the château. We lived together in the small house by the gate. It was not refurbished, yet. It was very ugly. But we were starting the school.
à la carte: When did the first group of students come?
M. Médigue: The first group arrived on the 28th of August, 1990 — not a long time to complete all the work required to turn the château into a school, especially with French workers who don't work as fast as those in Japan. In Japan we completely remodeled the restaurant, which was on the 30th floor, in two months. The space was completely gutted and rebuilt, all 12,000 square feet. Here it was difficult to be ready in a year. But then the students arrived. Only the kitchen, classroom, and dormitory were completed. My house was still not ready. The restaurant was not ready.
à la carte: So how many students were in the first class.
M. Médigue: We had a contract of 110 students a year, so there were 55 students.
à la carte: How long did the students come for?
M. Médigue: They came for six months at a time paying about 70,000 francs. It was a lot of money.
à la carte: Fifty-five students in the classroom doesn't seem like a problem, but 55 in the kitchen must have been crowded.
M. Médigue: No, we had five groups — two in the kitchen, one in the bakery, one doing pastry, and one group learning service. They rotated every two days.
à la carte: I assume that you were not teaching all 55 students by yourself.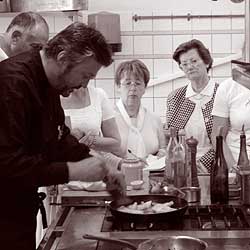 M. Médigue: No, I had two chefs in the kitchen plus one doing bread and pastries. There was also a gentleman in charge of service. We also had four assistants from Japan, one in the bakery, one in patisserie, one in the kitchen, and one in service. I think at that time, we had the best school that you could find anywhere. The level of all the teachers was excellent. We had about one teacher for each ten students. The result was excellent.
à la carte: Were you teaching daily at this time?
M. Médigue: I wore a lot of hats then, but I would teach in the classroom in the afternoon. In the morning, the students would start at eight-thirty. They would prepare food until twelve, and then eat until about twelve-thirty. At two o'clock in the afternoon, everyone would be in the classroom for a course. Every week, once a week, there would be un grand chef, minimum one-star Michelin. Sometimes we would have one, sometimes two, sometimes three. We had Pierre Gagnaire, Emil Jung, Charles Barrier, Louis Outhier. We had all the one-star chefs of the Franche-Comté and Burgundy. We had Roland Durand from Paris with two stars. The level was great. So once a week they had one grand chef, one pastry demonstration, one cooking demonstration that I was doing, a course about items like wines, and finally a course about technical items like sanitation. It worked quite nicely.
à la carte: So this started at the end of the summer of 1990 and lasted until when?
M. Médigue: We ran this way until '95. We had a contract of nine years, but in January 1995 there was the earthquake in Kobe. They were already having a hard time sending students. The first group was full, most groups were only about thirty students, but they would send the money for fifty-five. It was starting to be tough for them because it was a lot of money. They used the earthquake as an excuse to break the contract. We had a problem because be had invested a lot of money in remodeling the château. Just redoing the wiring cost 650,000 francs. We had to borrow a lot of money from the bank. We had been able to set a little money aside, but not enough to pay off the loans. We decided to look for another school in Japan to contract with but no luck. We tried Korea. We tried Thailand. We tried China. And when this didn't work, we decided to open a restaurant. That's how we opened a restaurant in the château in May, 1996. [Louis] Outhier came here to help us.
à la carte: Was Outhier retired by then?
M. Médigue: Yes, but only for two or three years. There were a lot of people who were not aware that he had retired. It was very good for us. The timing was great. We had 600 names on our mailing list. Even through the winter we had at least one table every day. In 1997, Gault-Millau rated us as 13 with one toque. In 1998, we were in the Michelin guide with three forks. In '99, we received our first star. And then, the business really started.
à la carte: You're now teaching individuals from the community. When did this start?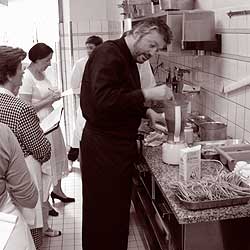 M. Médigue: The first person, Noëlle Defago, actually started to come with the last of the students. In 1996, we still had a few students who were coming — not many, maybe ten. We were still running, but we didn't make money. We tried at this time to have local people come to learn how to cook, but they could not stand to learn in the classroom like a student. They wanted to learn, but they wanted to learn in the kitchen. One winter, Papu [the chef's father-in-law] asked us, "Why don't you teach the course in the kitchen and stay in the kitchen with the chef?" I said, "What will change? For me it is better for the students to sit in the classroom where everyone can see all that is going on." But, as soon as we added to the advertisement "dans le cuisine avec la chef" — it's only a few words — we couldn't understand what was happening — everyone wanted to come. They didn't want to come to learn in the classroom, but they wanted to come to learn in the kitchen with the chef. In the classroom we were advertising that Mr. Jean-Michel Lorain or Mr. Louis Outhier was going to teach, but no one would come. We would have just one or two students.
à la carte: So when the contract with Japan ends in '95, you started teaching people from the community?
M. Médigue: No. The half-day courses like we have today didn't start until 1998 or '99.
à la carte: And now you teach three groups of students: those who still come from Japan for practical training, stagiaires from France, and people from the community?
M. Médigue: Yes. Today, we are a restaurant, but we are also a school.
à la carte: Do you prefer to teach by demonstration, especially for students from the community, or with a hands-on method?
M. Médigue: It depends on the students. For some [of the community] classes, people only want to watch. At other times, everyone wants to hold a knife and help me. Some students want to help all the time, but other students object because they are concerned about sanitation. It really depends on the group. In my opinion, you learn more when you actively participate than when you just watch.
à la carte: You've also talked recently about having a new cooking school when the château is closed in the winter.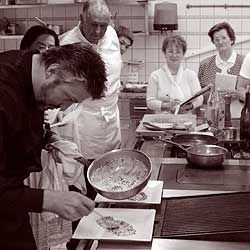 M. Médigue: I don't like the term cooking school. It will be called L'Atelier Gourmand de Château d'Amondans. Atelier means workshop, gourmand for food, and Amondans because everyone in this area knows Amondans. On Monday and Saturday, we will have a morning course that includes a full lunch — as we currently run at the Château. On Tuesday and Thursday, we will have an afternoon course with just a tasting of the dishes prepared. On Friday night, we will open as a restaurant for only 15 guests. It will be set up more as a nice home kitchen instead as a professional kitchen. It will be like what you see on TV.
à la carte: If you had a choice at this time to spend all your time running the restaurant or all your time teaching, could you choose one activity over the other?
M. Médigue: My feeling is, I think I will be very, very happy with what we are going to do because having a restaurant all year 'round is the best way to go mad. But completely stopping this business that I've been doing twelve hours a day since I was 15 years old is also out of the question. It is like a drug. I couldn't give it up. So running the restaurant for six months, even if there are some tensions, will not be so bad. You know that at the end of the season you can take a breath. In the winter time, I will have plenty of time by myself, with students, to have new ideas, to evaluate what we are doing, and to make changes. Most chefs stay in the kitchen and serve the same food for ten or more years. Sometimes it works. But for me, I think I will be very happy to spend some of my time creating and some of my time being a chef. I think one activity will help the other.
à la carte: Do your students from the community ever report back to you how their "homework" went?
M. Médigue: Oh yeah. And I'm surprised because I think that sometimes they may not be getting it, but they do exactly as they are taught. I have some guests who come to the restaurant because they have eaten a dish prepared by one of their friends, who learned the dish here in a course. Once I had chef of a restaurant, who was a friend of a lady who learned how to make cassoulet, taste the cassoulet at her house. He said, "If the cassoulet is like that, I'll go to the restaurant of the guy who taught you." He came and was very happy. He would not have come if he had not tasted the cassoulet.
à la carte: It has been interesting talking with you. Thank you for spending the time with me.
M. Médigue: You're welcome.