May 2, 2011
Essay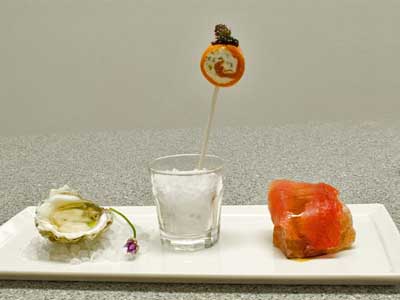 amuse-bouches, intermèdes et mignardises
(culinary doodads)
To say that I intentionally intimidate people is to misunderstand my intentions. I invite friends for dinner in order to spend time with them in the manner I enjoy the most: over a shared meal. My guests know that dinner at my house will be a four‑ to five‑hour event and there will be more time spent in conversation than eating. These are multi‑course meals, usually built around four main courses and three to five minor ones. Most of my guests are under the misconception that I have slaved away for hours prior to the meal even though my kitchen is usually dark when they arrive. It is this mistaken belief coupled with the quantity, variety, and dare I say, high‑end restaurant quality of the food placed in front to them that causes many of my guests to feel just a bit intimidated. It is not my intention to intimidate, but this unintended consequence is as common in my house as the dinner parties I throw. And as intimidated as my guests may be, no one has ever refused an invitation to another meal.
For most of the last decade, my dinner parties only consisted of the four main courses: some sort of starter such as a soup or appetizer; a main course centered around a major protein; a combination salad and cheese course; and dessert. These meals were satisfying to both produce and to eat. But as time progressed, and I spent more time both staging and eating in high‑end restaurants, many with a Michelin star or two, I felt there were some elements that were missing: the little food doodads that showed up before, during, and after the meal that acted like accents to bring more meaning to the main food items.
Sometimes the doodad was presented as a "palate cleanser" after the main course and before dessert. On my dinner table, I like to present the "palate cleanser" as a sweet or tangy intermède (interlude) between two savory courses. Just as in music an intermède serves "as a connecting link between the main divisions" of a larger work, a culinary intermède can serve to connect the flavors of two totally separate courses. I like to play with texture and temperature as well as flavor when creating an intermède. Sometimes they are granités, sometimes they are puddings, and sometimes they are drinks. They are usually cold, but sometimes a few swallows of a hot, sweet soup makes for a great intermède.
I first encountered les mignardises in January, 1997, at Restaurant Guy Savoy in Paris. It was like having another dessert after the three we had already been served. Although usually defined as petites fours, all sorts of little, sweet things can show up on a plate of mignardises. I usually present a variety of miniature cookies, tarts, and candies. To qualify for my mignardise plate, these items need to be able to be prepared in quantity and store or freeze well. Items that have to be prepared or assembled at the last minute do not make an appearance. It is rare that I make one of these items specifically for a meal, they are just things I prepare when the mood strikes, and then set aside until needed.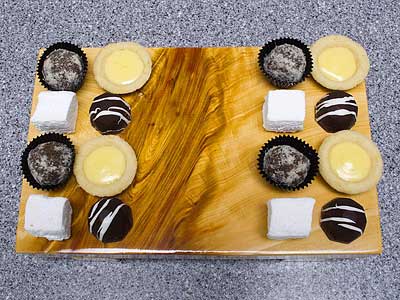 The doodad that is the most fun for me is the amuse‑bouche. These little plates of food that are set before the guests in fine dining establishments can make intense statements with just a bite or two. Evolving from a reference in a 1946 French novel, and gaining a strong foothold 50 years later, even some middle‑of‑the‑road restaurants will start your meal with a "gift from the chef." (Dare I say, never trust a server bearing gifts?) Depending on the restaurant, the amuse‑bouche may be simple or elaborate, bland or exciting, and beautiful or plain. Sometimes the restaurant will make something special and sometimes the amuse‑bouche is actually built from leftovers. Although sometimes they are served warm, it is not uncommon for them to be served cold.
In the restaurants where I have worked, plating of the amuse‑bouche falls to the stagiaire, apprentice, or student working in the kitchen. The design of the amuse‑bouche comes from the chef or the sous chef, but what makes it to the guest depends on skill and concentration of the lowest member of their team.
I find that designing, cooking, and plating small plates that contain only one or two bites, whether an amuse‑bouche, intermède, or mignardise, to be both fun and creative. Since the finished dish is eaten in one or two bites, the flavor can be much more intense than if the guest was to get a whole plateful of the same item. Besides designing the shape of the food itself, I can also avail myself to a large variety of serving dishes to complete the presentation. I can even, on occasion, serve one of these items on something that you probably wouldn't find an ordinary dinner table, such as a piece of wood or chunk of salt. Besides flavor, the visual appearance of the small plates is part of this dining experience.
Since amuse‑bouches, intermèdes, and mignardises are all about having fun, the recipes for preparing them, for the most part, are loose and allow for much variation, substitution, and changes. The recipes are often intended more for concept that for prescription. Some of the recipes presented in this portion of the à la carte website in the months to come will be conceptual; some will be precise; most will be a combination of the two. Hopefully, they all will be both instructional and inspirational.