May 16, 2011
Amuse-Bouche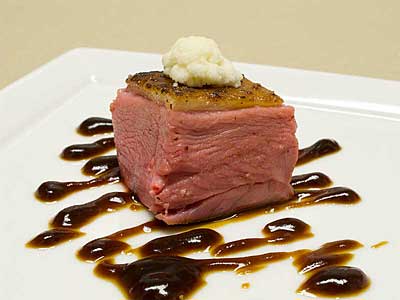 magret de canard
(duck breast)
You've heard the saying, "When one door closes, another opens"? Many of my amuse‑bouche ideas have a relationship to that saying. Case in point, I was getting ready to leave the job training center where I teach periodically when the chef in charge of culinary studies stopped me and asked if I'd like a package of half duck breasts. They originally were frozen, but a student had defrosted them a week earlier and maybe even left them out in the hot kitchen for a day. They were still in their original "cryovac" packaging. He was going to toss the package out, but then I walked by. (I assume he offered the package to me because he knew I was resourceful, not because he wanted to harm me with tainted meat.) So I threw the pack of Maple Leaf Farms duck breasts in my bag and headed home.
Once at home, I opened the package and smelled the contents. They smelled like duck breasts. So I wiped off the purge and vacuum packed each in its own bag. These I lobbed in the freezer because, as of yet, I didn't have any idea as to what I would do with them. One issue for me was that these were harvested from White Pekin ducks, not the Moulard ducks that I prefer. A typical half breast, such as these, weighs in at about 225 g (8 oz). A Moulard half breast is about twice that size. The Maple Leaf Farm literature says that a Moulard breast can be "stringy and chewy," but that has not been my experience. I find the Moulard breasts to be much more flavorful.
So now I have two half duck breasts in the freezer; how should I prepare them? The idea for one came to me while laying in bed one morning. Here's what I did: I thawed a breast out in the refrigerator for a day. I opened the vacuum bag, wiped the purge off the surface, sprinkled the breast generously with fine salt and freshly ground black pepper, and repacked the breast in the same vacuum bag. I placed the bag in a temperature‑controlled water bath set at 58 °C (136 °F) for about 2
1
⁄
2
hours, long enough to both cook and pasteurize the meat.
A few minutes before I planned to serve the duck, I removed the bag from the water bath and set it aside at room temperature. At the same time I heated a well‑seasoned cast‑iron pan, that I keep around just for searing, to almost white hot. When the pan was ready, I removed the duck breast from the bag and wiped it dry with absorbent paper. I then carefully seared the skin side in the hot pan. The cooked breast didn't curl as much as a raw one would but it was still important to hold the breast flat again the pan for the entire searing time, which was quite fast. The breast was then placed on my cutting board, skin side up.
I tasted a bit of the duck and decided that it was too bland for the sauce I had originally planned. (I have to learn to not always expect the exquisite taste of the Moulard ducks I'm used to.) So I took some hoisin sauce and thinned it a bit with a little roasted sesame seed oil so that it was a bit more sauce‑like. I also set aside a couple of small florets from some pickled cauliflower that I had on hand. (Building an amuse‑bouche can be "a crime of opportunity.")
The breast was cut into 2‑cm (
8
⁄
10
‑in) square pieces. Only about half of the breast was of an even enough thickness to be used to create nice "cubes" for this dish. (The remainder was a reward for the chef.) I was lazy so I used a spoon to drizzle the sauce on the plates. If I hadn't of been lazy, I would have used a squeeze bottle, but then I would have had to wash it. I then placed a single duck cube in the center of the sauce on each plate, but at an angle to the edge of the plate so the presentation would look nicer. Finally, using a pair of cooking forceps, I placed the cauliflower garnish on the top. Each guest was provided with set of small, Japanese chopsticks so they could enjoy their duck cube without getting their fingers dirty.