August 8, 2011
Mignardise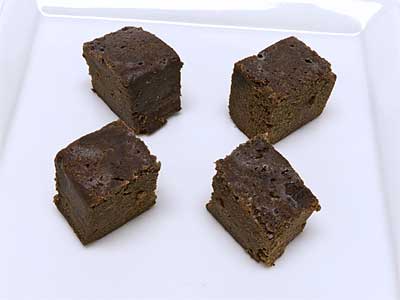 petits pavés au chocolat
(brownie bites)
I think my mother baked brownies occasionally, but I don't have any definite memories of it ever happening. As an adult, I remember the brownies sold by a bakery around the corner from my house called Chocolate Tidal Waves. Those were so big, rich, and dense that they took two days to eat. I also remember my Uncle serving brownies every time my wife and I visited him for dinner, but I can't remember whether they were Betty Crocker or Pillsbury. Even though they came from a box, they always seemed to taste pretty good.
And, I can't remember whether I first saw "brownies" in a shop window in France or in a French cooking magazine. Either way it seemed like another American import was invading France along with Heinz Ketchup and Tabasco Sauce.
For this mignardise, you can use your favorite brownie recipe, if you have one. I don't so I've selected a recipe from a small book called Les gâteaux en toutes occasions (Cakes For All Occasions) that was given to me by a non‑French speaking friend. Whichever recipe you use, the result should be rich and dense. These are one‑bite flavor blasts, with one bite it's all or nothing.
The following recipe is proportioned for baking in an 8 by 11‑cm (3
1
⁄
8
by 4
1
⁄
3
‑in) rectangular baking pan. Adjust the recipe proportions to match the size of the pan you have. Prepare the surface of the pan as appropriate, such as with butter or baking spray. The serving pieces are about 2 cm (
8
⁄
10
in) square. I don't like using the edge pieces so I can get about 12 to 15 servings from my little pan.
1 extra‑large
egg, separated
chocolate, 70% cocoa mass, chopped
10 g (scant 1 T)
finely granulated sugar
1. Preheat the oven to 180 °C (355 °F).
2. Whisk the egg white until firm and set aside.
3. Melt the chocolate in a bowl set over barely simmering water. Stir with a rubber spatula to obtain a smooth consistency. Add the butter, a few pieces at a time, and continue to stir until it is thoroughly blended into the chocolate. Add the egg yolk and do the same. Finally, mix in the sugar and the cornstarch.
4. Remove the bowl from above the water, dry the bottom of the bowl, and carefully fold the chocolate mixture into the egg whites until barely mixed. Transfer the mixture to the prepared baking pan and level the top.
5. Place on a center rack in the oven and bake until barely set, about 15 to 18 minutes. Cool completely before cutting.