April 2, 2012
Amuse-Bouche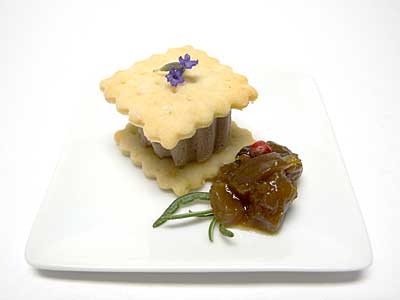 mousse de foie d'agneau « Ritz »
(lamb liver mousse on a "Ritz" cracker)
"Everything tastes better on a Ritz," or so the advertising slogan goes. When I was growing up, that certainly was the case in my home. There were only two types of crackers found in our kitchen pantry, Ritz and Triscuits. In those days, there wasn't the various flavors and sizes of Ritz Crackers available today, or if there was, not in my mother's kitchen. Saltines and all their variations would occasional show up on the shelf, but usually because they were needed for some recipe Mom wanted to try (and never repeat). They were never used for snacks.
During Passover there'd be boxes of matzos, but shortly after those eight long days were up, these would disappear. During Passover, breakfast and lunch would center around the crumbly matzos instead of the sandwich bread we ate the rest of the year. Butter and jam on a cold matzo was never as satisfying as it was on a piece of golden‑brown toast at breakfast, and bologna with mustard and mayonnaise never seemed as fulfilling on matzo as it was on airy white bread.
In an attempt to compensate for the difference between bread and matzos, Mom would make egg salad, which she always called deviled egg, and chopped liver. The egg salad was a simple blend of hardboiled eggs, Best Foods mayonnaise, French's mustard, and Leslie salt. The eggs were diced with an old, pot‑metal egg slicer that half a century later is still regularly used in my kitchen. The egg salad was always spread too thin for my taste, but I guess since it took more work to prepare than opening the bologna package, Mom wanted a little to go a long way.
The real highlight was the chopped liver. She'd fry diced onions in a copious amount of butter and then add the chicken livers. When they were mostly cooked and everything was seasoned, the whole conglomeration was passed warm through her old hand‑crank, Universal‑brand, cast‑iron meat grinder clamped to the pullout cutting board. (For some reason she always referred to the cutting that pulled out from the kitchen counter like a drawer as a bread board, even though she never cut bread or anything else on it.) She used the finest cutting plate on the grinder so the chopped liver was actually a coarse puree. It was great on a section of matzo, although hard to spread without breaking it. It was also great on a Ritz cracker the rest of the year, if I could coerce her into making some "out of season."
One day when I obtained a whole, warm, recently "harvested" lamb liver, I used part of it for some chopped liver, and my first thought went to putting some on a Ritz cracker. To call the concoction chopped liver is a bit misleading since it really was a very smooth liver mousse. (It would be interesting to someday make a liver mousse from a moose liver.) I adapted the recipe from the one I use for chicken liver mousse that itself was adapted from a recipe in Victoria Wise's
American Charcuterie
cook book. The quantities given below produce about 700 g (1
1
⁄
2
lb) of mousse, enough for a large party's worth of
amuse‑bouches.
(I like a lot leftover to snack on.)
goose or other poultry fat
450 g (1 lb)
fresh lamb liver, well trimmed, cut into 1‑cm (
3
⁄
8
‑in) wide strips
fine salt and freshly ground black pepper, to taste
1 small
onion, peeled, finely diced
1 small
pear, peeled, cored, finely diced
75  ml (5  T)
heavy cream
1. Melt 30 g (2 T) goose fat in a frying pan over medium heat. Add the liver, season with salt and pepper, and cook until firm, but still pink in the center. Increase heat to high, add the cognac, and ignite. When the flames die out, transfer the liver with all the cooking liquid to a bowl.
2. Melt the remaining goose fat in the same frying pan over medium heat. Add the onion, pear, and thyme. Lower the heat and cook, stirring occasionally, until the onion and pear are cooked. Add the contents of the frying pan to the liver in the bowl, and cool slightly.
3. Place all the cooked ingredients along with the butter and cream in the bowl of your food processor. Puree until the mixture is very smooth. The texture will still look a little rough. Transfer the puree to a blender with a high tip speed, such as a Vita‑Prep. Blend the mixture until very smooth. Do not over blend, or the mixture may get too hot and the fat may separate.
4. Pour the mousse into a rectangular terrine or loaf pan, and set it in your refrigerator until quite cold and firm.
To complete this amuse‑bouche I could have used the mini‑Ritz Crackers, but that wouldn't be any fun. I went online and searched through the first six screens that Google displayed of people's recipes for Ritz Crackers. I chose a recipe that looked reasonable from a website called Cupcake Project, and somewhat liberally borrowed from it.
140 g (1 c)
all‑purpose flour
1 generous pinch
fine salt
45 g (3 T)
cold, unsalted butter, diced
1 T
unsalted butter, melted
1. Preheat your oven to 205 °C (400 °F).
2. Place the flour, baking powder, sugar, and salt in the bowl of your food processor, and turn the blade a few times by hand to combine. Add the cold butter and pulse until the appearance is like coarse sand. Add the vegetable oil, and pulse to combine.
3. With the processor running continuously, add the water, a little bit at a time, until the dough just starts to form a ball. Transfer the dough to a piece of plastic wrap, and cover tightly. Hydrate the dough in your refrigerator for 30 minutes.
4. Unwrap the dough, and place it on a well‑floured work surface. Roll it to a 2‑mm (
1
⁄
16
‑in) thickness. (
Rolling pin‑gauge bands
can be really useful here.) Use a 2
1
⁄
2
‑cm (1‑in) fluted, square cutter to cut out individual crackers.
5. Transfer the cut‑out crackers to a Silpat‑lined, rimmed baking sheet. Poke an even series of holes in each cracker with a small fork.
6. Bake the crackers until they begin to brown, about 10 minutes.
7. As soon as you remove the crackers from the oven, brush them with the melted butter, and sprinkle them with a little fleur de sel. Transfer them to a rack to finish cooling.
I don't know how to predict the number of crackers this recipe produces since I play around with different shapes, and I snack a lot after I make the crackers. Those not consumed right away seem to last forever, or until eaten, when I store them in an airtight container on the pantry shelf.
The assembly of the
amuse‑bouche
starts with cutting 1‑cm (
3
⁄
8
‑in) thick slices of the mousse from the terrine or loaf pan. I then use a 2‑cm (
3
⁄
4
‑in) round, fluted Japanese cutter—I like the Japanese variety better than the normal fluted cutter because the flutes are a bit bigger—to carefully cut fluted shapes from the mousse slices. These are simply sandwiched between two of my "Ritz" crackers for service.
The mousse sandwiches looked a bit lonely on the serving plates so I accompanied each one with a little
onion chutney
.