September 17, 2012
Amuse-Bouche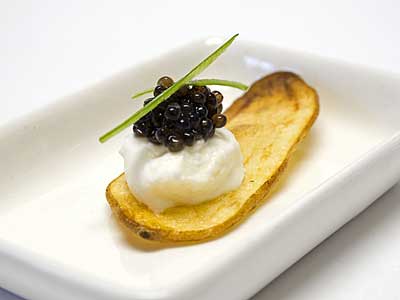 croustillant de pomme de terre
(caviar and fromage blanc on a potato chip)
They were really too cute to pass up. There in front of me was a small box of fingerling potatoes from Fat Cabbage Farm that were small, even by fingerling standards. I didn't have any idea what I would do with them, but I bought a handful anyway. They were just so cute.
Many of my amuse‑bouche creations have begun this way. I buy a product because I'm curious, or in the case of these potatoes, enamored. I may get an idea right away or a few days later or not at all. More than one item has rotted before I got around to using it. Since the original purchase is always small, and so is the waste.
Most of my creative ideas come about in the period between unconsciousness and awareness in the morning between when the alarm goes off and I shave. I've used this 15‑minute period most of my adult life to solve the problems that traveled through my mind the previous evening before sleep set in.
I think the idea for this amuse‑bouche happened the morning after I read, the night before, Mark Ibold's essay on the best potato chips in the world in the first issue of Lucky Peach. Or maybe it came about because at the same time I was working on a potato garnish inspired by Michel Bras? Or maybe it was because of a memory of potatoes fried in duck fat one very cold February morning in 1997, the location being a chateau kitchen in the Dordogne? Or maybe it just popped into my head unassisted?
Whatever the impetus for this little taste, when I look at the recipe, it feels like there are too many ingredients for how simple it is. Then again, I can't think of which I would leave off. For me, every item except the potato is standard in my kitchen, even the caviar. (I buy Russian pike caviar that has a very mild taste and low price. Because of the salt, will last a long time in a sealed jar in the refrigerator.)
rendered chicken, duck, or goose fat
1 small
fingerling potato, scrubbed
about 1 heaping teaspoon
caviar of choice
8 very thin strips
green onion
1. Place enough fat in a small frying pan to produce a 4‑mm (
5
⁄
32
‑in) deep layer, and heat over high heat. Using a Japanese mandolin, carefully cut the potato into 2‑mm (
5
⁄
64
‑in) thick, lengthwise slices. Cook the potato slices on both sides in the hot fat until golden brown and crisp. Drain the potato slices on a piece of absorbent paper, and sprinkle lightly with fine salt.
2. Lighten the fromage blanc with a little cream. Spoon a small dollop of the cheese onto the tip of each potato slice. Top the cheese with a slightly smaller portion of caviar. Place two strips of green onion on top of the caviar in a decorative manner. Serve immediately so the potato slices stay crisp.
Yield: 4 servings.