May 6, 2013
Amuse-Bouche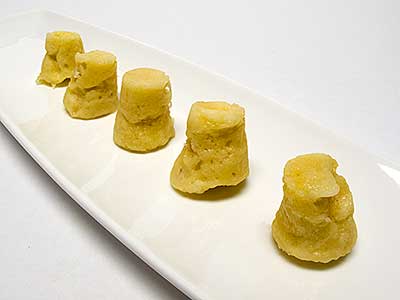 gâteau de Savoie au parmesan
(parmesan sponge cake)
Being that my father couldn't butter bread, it was surprising that he was excited about going to a new restaurant where the main selling point was that it cooked your meal right in front of you with an Amana radar range. The evening was sometime in the early 1960s and took place at a new, Mexican‑style restaurant located about 8 km (5 miles) north of our home. You stood in a cafeteria‑style line to place your order. When your turn came, the server would remove your pre‑cooked dinner from the freezer and place it in the radar range. With its blast‑proof door that locked in place and opened upward, the range was pretty impressive. In what seemed like an eternity, your order was ready. The cooking container doubled as your dish. You carried it to your table on a cafeteria tray. Dinner that night looked like a fancy version of a Swanson frozen, Mexican, TV dinner: refried beans, "Spanish" rice, and an enchilada filled with mystery meat and topped with cheese and red sauce. It wasn't long after that evening that I noticed the restaurant was out of business. Within a few years, the radar range was referred to as a microwave oven.
I've never been a fan of microwave ovens, and it's not just because I had to wait so long that night for my dinner to heat. Over the years, I briefly tried various cooking techniques in mine, but mostly it sits there idle, waiting to boil some water or melt some butter. I don't even have a full‑size microwave oven. When we remodeled our kitchen in 1993, I opted for one I could build into a cabinet. It's too small for a turntable, so I rotate the food by hand.
In one of my ramblings through cooking demonstrations on YouTube, I ran across Michael Voltaggio making
brioche
in a microwave. I thought the idea was cute, but since he gave no ingredient amounts, I didn't think further about it. Then I saw others applying a similar technique to sponge cake and flourless chocolate cake. It seems that all of the YouTube videos traced back to the work of Albert Adria in Barcelona making
sponge cake
in a microwave. I guess Adria was the alpha chef.
Then one day I decided I needed to make a cheese version of the sponge cake. I did my usual searching through the Internet wilderness for ideas and recipes. Some methods were complex, others were simpler. None that I found used cheese. As I analyzed the recipes, I found that the one common ingredient was eggs. Another was that people were "leavening" their preparations in an
ISI siphon jar
charged with nitrous oxide. Was that really necessary? Maybe a whisk would work just as well? As a cooking vessel, people were using paper or plastic cups. These seemed a bit large for producing an
amuse‑bouche.
Could I find mini‑paper cups?
The recipe I developed turned out to be surprisingly simple. My ingredients are an egg white, a little starch, and parmesan cheese powder.
I start by spraying a multi‑cavity
silicone mold
with baking spray. The one I use has cavities shaped like truncated cones which are 3 cm (1
3
⁄
16
in) round at the opening, 2 cm (
25
⁄
32
in) round at the base, and 3
1
⁄
2
cm (1
3
⁄
8
in) tall. I separate the egg and place the white in a large mixing bowl. Then, I disperse 5 g (scant 1 t) of tapioca starch into a little bowl containing 1 t water. Finally, I grind some finely grated parmesan cheese in a
spice grinder
to yield 30 g (
1
⁄
3
c) of very fine cheese powder. Prep is done.
I whisk the egg white just until it starts to turn from clear to opaque. I mix in the starch mixture and the cheese. Then, I use a small dessertspoon to fill the bottom third of the mold cavities. I level the batter by sharply rapping the mold on my countertop. This recipe will produce about 6 to 8 pieces. With my microwave not having a turntable, I found it best to only fill the outer rows of cavities, starting in the middle of the rows.
I put the mold into my microwave, set on high, for 1 minute. It may take longer or shorter in your machine. I rotate the mold half way through cooking, but you may not have to if you have a turntable in your microwave oven. Once cooked, I invert the mold over a rack for about a minute.
I like to serve the "sponge cakes" warm. They get tough if they sit too long.