June 24, 2013
Amuse-Bouche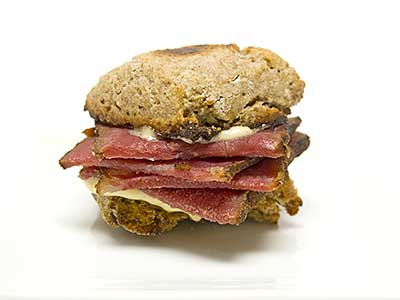 « pastrami » sur pain de seigle
(pastrami on rye)
My bologna has a first name, it's O‑S‑C‑A‑R.
My bologna has a second name, it's M‑A‑Y‑E‑R.
I love to eat it every day, and if you ask me why I'll say,
'Cause Oscar Mayer has a way with B‑O‑L‑O‑G‑N‑A!
Twenty years before that
commercial
hit the airwaves, my mother was sending me off to school with bologna sandwiches. The early ones consisted of one slice of lunch meat between two pieces of white sandwich bread—a local variant of Wonder Bread—lightly coated with a mixture of French's mustard and Best Foods mayonnaise. (I never understood why my mother would first mix the two condiments together rather than applying them separately to the bread.) That single sandwich, a piece of fruit, and a small Thermos of milk became the sole occupants of my Roy Rogers metal lunch box. When I advanced into the fourth grade, my sandwich quota doubled. When potato chips became available in snack‑sized bags, they were added to my daily midday meal.
I don't remember how old I was, probably in high school, before I realized that bologna was spelled with an "a," not an "i," at the end of the word. I also don't remember my mother's preferred brand being Oscar Mayer. I don't remember if the bologna I was served in the early days came from a deli counter or a market shelf, but by the time I was in high school, it always came prepackaged.
Once in a while, for a little variation, my mother would purchase olive loaf or pimento loaf. These were bologna slices with a modicum of sliced green olives or sweet, red pimentos. In both of these lunch meat variants, the flavor of the bologna overpowered the additive so the extra expense wasn't warranted.
Although my parents had moved to about 35 miles south of San Francisco—I didn't arrive until the following year—my mother regularly returned there by train to shop. Occasionally, she would shop at a German delicatessen, and there would be a respite from bologna. I don't know if my mother couldn't buy lunch meat from the butcher she went to in Redwood City, or simply chose not to. In those early days, the butcher shop, bakery, and a small market were all located within a block of each other on the edge of downtown and within walking distance of our house.
When we moved a little farther south to Menlo Park, the new town had two delicatessens. A couple of the markets had butcher concessions, but my mother only bought fresh meat at those. She started buying lunch meat more regularly from the delis. Gradually, my bologna was replaced with what was then called hard salami—now sold under the protected name of Italian dry salami—and German salami, a fine‑grained cooked, salami‑style lunch meat. Liverwurst and all of its varieties also graced my sandwiches. The bread moved from white sandwich bread to rye‑bread variants and then to a white‑bread alternate called Dutch‑crunch. The artisan bread movement was still a decade away, but by the time my high school years were drawing to a close, a commercial version of sliced, sourdough French bread was a common occupant of my lunch bag.
Occasionally, my mother would buy some pastrami from the delicatessen. Not for me, but for guests coming for Sunday brunch. I would get a few slices, but never as many as I wanted. Even as an adult, it always seems too expensive, so I rarely purchase it.
Now, if I eat a pastrami sandwich, it will most likely be at a restaurant or sandwich shop. I'll either order a simple pastrami on rye bread or a Reuben sandwich made with pastrami. I've probably eaten some form of a pastrami sandwich at most of the existing old‑style delicatessens in Manhattan. In the 1980s, when I travelled often to Baltimore, I'd have the open‑faced pastrami Reuben at a small restaurant near the Monument Street entrance of Johns Hopkins Hospital almost daily.
A number of times in the past, I've attempted to make my own pastrami. These efforts have ranged from disappointing to disastrous. It didn't matter what the source of the recipe was, the results were never satisfying. I came to believe that part of the problem was because commercial pastrami is often cooked in a steam oven. I didn't have one of those, and so I couldn't duplicate its results. Last May, I heard of a new website dealing with modern cooking techniques. Upon investigation, I found a
recipe
for "sous vide pastrami" that looked promising. There were many details in the recipe that I knew from the start I would ignore or change, but there was enough remaining to inspire a new attempt. My latest dip into the pastrami pool was a reasonable success, and it demanded to become an
amuse‑bouche.
My pastrami recipe has some roots in the one I found online, but I changed or simplified many details from the cut of meat to the cooking times and temperatures to the spice and brine mixtures. I knew my pastrami would be made from beef shoulder because I had successfully substituted that for short ribs and brisket in other recipes. When one of my local markets put 5‑cm (2‑in) thick slices of shoulder on sale, my new pastrami adventure commenced.
After cooking, my 900‑g (2‑lb) piece of meat shrank to about 3
3
⁄
4
cm (1
1
⁄
2
in) thick and produced 24 portions, allowing for generous sampling and testing. The whole pastrami preparation process took eight days from starting the brine to vacuum packing and freezing.
5‑cm (2‑in) thick slice
beef chuck, preferably from near the humerus bone
for the brine
1 l (1 qt)
filtered water
10 g (0.35 oz)
salt with 6.25% sodium nitrite (see note below)
52 g (1.83 oz)
Turbinado sugar
10 g (0.35 oz)
chili flakes
10 g (0.35 oz)
whole yellow mustard seeds
10 g (0.35 oz)
whole black peppercorns
for the rub
20 g (0.70 oz)
Turbinado sugar
15 g (0.53 oz)
whole black peppercorns
8 g (0.28 oz)
whole coriander seeds
5 g (0.18 oz)
chili flakes
5 g (0.18 oz)
whole brown mustard seeds
1. Place the water in a brining container, and add the salts and sugar. Mix with an immersion blender until the solids are dissolved. Inject the brine into the meat. Add the meat to the brine along with the remainder of the brine ingredients.
2. Cover the container and place in a refrigerator. Flip the meat in the brine once a day. After about 72 hours in the brine, remove the meat and rinse. Discard the brine.
3. Place all the rub ingredients into a spice grinder, and grind long enough to crack about half the peppercorns.
4. Wipe the moisture from the surface of the meat with absorbent paper. Massage the surface of the meat with lots of the rub mixture. Much of the rub will fall off the meat during the various stages of preparation. Set the meat on a plate, and refrigerate uncovered overnight.
5. The next day, smoke over hardwood for 8 hours at ambient smoker temperature, about 55 °C (130 °F).
6. When the smoking is completed, vacuum‑pack the meat and cook in a water bath for 48 hours at 55 °C (130 °F).
7. When the cooking is completed, drain the meat, and dry the surface. Set the meat on a plate, and refrigerate uncovered overnight.
8. Slice the meat crosswise into very thin slices. Cut the slices into squares. Nibble on the trimmings. Arrange the slices in piles of four. Cut pan‑liner paper into strips with the same width as the meat. Make an accordion fold with the paper, and interleave and wrap four slices of meat into a single portion. Place four wrapped portions of meat in a single layer into a plastic bag, vacuum, and seal. Repeat with the remaining portions. Freeze.
Note: The sodium nitrite is used in this recipe to prevent botulism. In this preparation, the meat never is heated hot enough to cause the color to turn gray.
Since my favorite way to eat pastrami is on a good piece of rye bread, my
amuse‑bouche
would require that. I initially thought I would bake a small loaf of rye bread and serve the meat on very thin, toasted slices, but then my mind wandered to biscuits. I'd never seen or eaten a rye‑flavored biscuit, but a quick search on the Internet provided a few possibilities. One in particular caught my eye because the title included the year 1908. (I do like working with older recipes.) It also was one of the few recipes made totally out of rye flour. That Internet recipe turned out to be modernized, but at least the author provided the name of the original book where she sourced the recipe:
The Rumford Complete Cook Book
by Lily Haxworth Wallace of the Department of Home Economics, Rumford Chemical Company. I found the recipe on page 116 of the book. The version I present below is very close to the original—missing only one‑half of a small egg—but sized to produce only sixteen, 2

1

⁄

2

‑cm (1‑in) square biscuits.
In contrast to the time that the pastrami takes to prepare, the time to make the batch of sixteen biscuits was about 30 minutes.
about 100 ml (3
3
⁄
8
fl oz)
whole milk, plus some for brushing
1. Preheat oven to 215 °C (420 °F). Prepare a baking sheet with a silicone‑rubber liner or parchment paper.
2. Place the flour, salt, and baking powder in a bowl. Stir briefly to mix. Add the butter, and cut in with a fork. Add the milk in four portions to produce a sticky but firm dough.
3. Flour your hands and a work surface. Turn the dough onto the surface, and form it into a smooth, 20‑cm (4‑in) square. Use a floured bowl scraper to square the corners and edges. Use the scraper to divide the surface of the dough into a four‑by‑four grid of 2
1
⁄
2
‑cm (1‑in) square biscuits. (I use a wooden, old‑fashioned bench scraper for this.) Tilt the scraper gently from side‑to‑side to widen the groove at the top. Brush the tops of the biscuits with milk.
4. Transfer the biscuits as a single piece onto the prepared baking sheet. Bake for about 15 minutes. The tops and bottoms may not brown much.
5. Cool on a rack. Freeze until needed.
To serve the amuse‑bouche, defrost sufficient portions of meat and biscuits. Bring a skillet or frying pan full of water to a boil, and preheat a broiler. Combine a little mayonnaise, Dijon‑style mustard, and prepared horseradish in a bowl, and set aside. Slice the biscuits crosswise, and place the cut sides up on a baking sheet. Toast the biscuits under the broiler, and at the same time, heat the meat, still in the bag, in the hot water. In my broiler, this takes about 2 minutes.
Spread a small amount of the mayonnaise mixture on each of the toasted surfaces, and arrange four slices of pastrami on each bottom piece of biscuit. Cover the pastrami with the top biscuit piece, and place on a serving plate. Serve while still warm.