December 16, 2013
Mignardise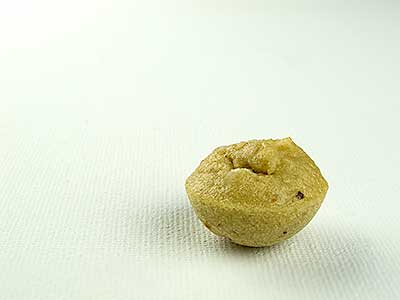 pain de banane
(banana bread)
For most of my primary school days, Mom packed me a lunch. The contents were usually a sandwich and a piece of fruit. When I entered high school and individual bags of chips became available, one would be added. The sandwiches were fine, and the chips were always a welcome addition. The fruit was usually a problem. The apples I found in my lunch box were, more often than not, mealy. Possibly because Mom favored golden delicious apples, not crunchy varieties. Other fruits weren't much better. Oranges were sticky and difficult for my small hands to peel. Pears were usually soft, over ripe, and messy for me to eat. Bananas were my favorite, but for some reason I didn't get them often. Maybe they were too expensive in the 1950s. I still like bananas best of all fruit.
My preferred way of eating bananas is in their most primitive form. I dislike banana cream pie, chocolate‑covered frozen bananas, and banana smoothies. One exception is that, if it is made by someone else, I do like a good banana bread. Up until now, I've been too lazy to make it. Maybe the recent surplus of bananas in our household was a sign that I should try my hand at making some banana bread?
So as I usually do, I commenced to first do some research. What old recipes could I find? How are most modern recipes made? Are there any tips or secrets that I should be aware of? I found lots of recipes. None were particularly attractive to me. All seemed overly complicated. Although many of the recipes I found credited the
United Fruit Company
who supposedly published a recipe for banana‑nut bread in the 1930s to promote the consumption of bananas, the earliest recipe I found is from a 1933 cookbook published as a promotional piece by the Pillsbury Flour Company.
After reviewing many recipes and not feeling excited by any of them, I decided to strike out on my own with an original attempt. I decided to use just three ingredients: a banana for flavor, sweetness, and moisture; an egg for binding and leavening; and almond flour for structure. The initial result was a little dry when tasted warm from the oven, but a round of freezing and thawing produced a moist little banana‑bread mignardise.
The recipe calls for the banana to be sieved. This is very important since the process of forcing the banana through a fine sieve turns the paste‑like banana flesh into a thick liquid. This allows the banana to easily blend with the other ingredients.
1 extra‑large
egg, separated
1. Preheat your oven to 205 °C (400 °F). Prepare a multi‑cavity, 2.8‑cm (1
1
⁄
8
‑in) hemispherical silicone mold on a baking sheet. Spray with a light coating of vegetable oil. Set aside.
2. Beat the egg white until just stiff. Set aside.
3. Whisk the egg yolk and banana puree together until blended. Combine thoroughly with the almond flour.
4. Fold the banana mixture into the egg whites until just combined.
5. Spoon the mixture into the cavities of the mold. Bake until just beginning to brown, about 12 minutes.
Yield: about 24 "loaves".