January 20, 2014
Amuse-Bouche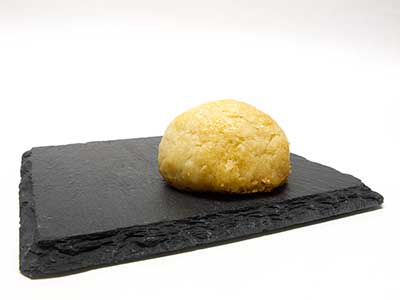 « manju »
(filled pastry)
When is manju not manju? Manju is a popular dessert in Hawaii, but I'd guess that most Japanese would not recognize it as manju in Japan, its country of origin. It is even different than the manju I can buy here in California. Hawaiian manju is similar to Japanese manju, but still significantly different. In Hawaii, local manju are small, flaky crust pastries filled with a sweet filling. The traditional filling is sweetened azuki (red) beans, but many other fillings are also used these days.
When I think of manju in Hawaii, I only think of the two brands that were found in my mother‑in‑law's house in Kahului, Maui. There was the Sam Sato faction on one side and the Home Maid Bakery faction on the other side.
Manju from Sam Sato's has to be purchased at the restaurant, which is only open Monday to Saturday from 7am to 2pm. It is best to call ahead to place your order since they often run out. There are two fillings to choose from: azuki beans and lima beans.
Manju from Home Maid Bakery can be purchased at one of their two store locations or at a number of supermarkets around town. The main bakery is open seven days a week from 5am to 10pm. The bakery is full service with a complete line of baked goods. The manju come in six flavors: azuki beans, apple, coconut, peach, pineapple, and imo (purple sweet potato).
Recently a third contender has entered the fray. My niece recently moved into the house, and even more recently started making her own manju. She found the recipe in the awkwardly titled 50th Anniversary Best of our Favorite Recipes 1946‑1996. The book is published by the Maui Association for Family and Community Education formerly Maui Extension Homemakers Council and Maui Home Demonstration Council. My niece's copy of the book is the 16th printing from 2005. The recipes in the book were submitted by locals and appear to have not been tested or even checked. The red‑bean filling—semi‑erroneously labeled black bean since there are black azuki beans but not in Hawaii—is by one contributor and the pastry recipe by another. When I was visiting in November, my niece whipped up a batch of five dozen one afternoon without breaking a sweat. As I sat there eating one, and then another, and another, I had two thoughts. Her manju are far superior to the commercial versions, and I wonder if I could pull off a savory version of these?
The original recipe in the book only has four ingredients: flour, sugar, butter or margarine, and evaporated milk. On my first attempt, I decided to omit the sugar, replace the butter with duck fat, and replace the evaporated milk with whole milk. The duck fat turned out to be rancid and to have too low of a melting point. The pastry ran off the filling like it was melting. For my second attempt, I made the pastry with butter, included the sugar, and used cream. This attempt went well.
For the filling, I decided to use a piece of the local, spicy Portuguese sausage. Although based on linguiça, Hawaiian Portuguese sausage is a different product from sausage found in Portugal. When I ran out during my testing, I was too lazy to buy more so I substituted a hot link with success. I used a 2‑cm (0.8‑in) round cutter to procure a cylindrical plug from a 1‑cm (0.4‑in) thick slice. I needed 20 plugs for the pastry‑ingredient quantities given below. Using a fully cooked sausage simplifies the baking, allowing only the full cooking of the dough to be of concern.
After the sausage plugs are wrapped with dough, they can either be baked immediately or frozen unbaked. They can go directly from the freezer to the hot oven.
140 g (1 c)
all‑purpose flour
113 g (1 stick)
cold, unsalted butter, diced
1. Combine the flour and sugar. Cut the butter into the mixture using your hands. When a nice dough is formed, work a splash of cream into it.
2. At this point, the dough can be set aside in the refrigerator to hydrate or used right away.
3. Heat the oven to 200 °C (390 °F).
4. Using a one‑tablespoon scoop, spoon out a ball of dough and press it into a disk shape slightly larger than a sausage plug. Work the dough around the plug, and form it into a cylindrical shape with a flat top and bottom and straight sides. Repeat the process until the dough is finished.
5. Arrange the manju on a baking sheet, and brush lightly with cream.
6. Bake the manju until the tops are golden and the edges are browned. This take about 16 minutes for unfrozen manju and a bit longer for the frozen ones.
7. Allow to cool fully before serving.
Yield: 20 manju.
© 2014 Peter Hertzmann. All rights reserved.