February 10, 2014
Amuse-Bouche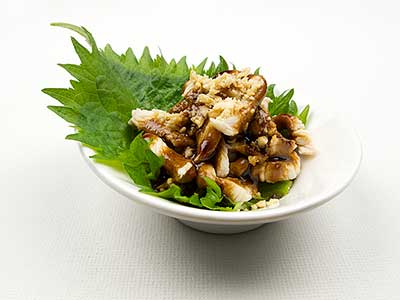 salade de poulet
(chicken salad)
Chinese cooking was always straight‑forward for me. Prep a pile of ingredients. Modify them in one of forty or so ways, sometimes once, sometimes twice. Finish with a seemingly endless, and at the same time limited, array of sauces. Serve hot, or warm, or cold.
The rules I followed were quite simple. For every four dishes, make one meat dish, one seafood dish, one poultry dish, and one vegetable dish. For every four dishes, use four different methods of cooking, usually one dish would be steamed, one would be deep‑fried, one would be stir‑fried, and one would be a cold preparation of cooked ingredients. Sometimes a dish would be braised. Sometimes a dish would combine two methods of cooking such as deep‑frying and stir‑frying.
If I had twelve people for dinner I made twelve dishes. If only four, I made four dishes. Everything was served family style. Each person was given a bowl of rice and a pair of chopsticks. Early in our relationship, my wife wanted to give each person a plate along with their rice. It initially worked out fine when people were given full‑size dinner plates. When we tried to squeeze twelve people around our 10‑person table, we thought using smaller plates would be acceptable. For some reason, the smaller plates caused people to eat less, and we had over half the food leftover. After that, we no longer served plates.
I liked the challenge of preparing Chinese dishes that would work well at pot‑luck dinners. Various chicken salads always seemed to work well. My favorite, and one of the easiest was called white‑cut chicken with spicy peanut sauce. It was a combination of shredded, cooked chicken and shredded, raw green cabbage, and a peanut sauce. Simple to throw together. Easy to eat with chopsticks or a fork.
Now when on the road, I make the sauce with a whole variety of substitutions, and it still seems to work out fine. No ground Szechwan peppercorns available? Use something to turn the sauce hot rather than numbing. No dark rice vinegar, no problem. Substitute some other vinegar for the dark Chinese vinegar. No dark Chinese soy sauce? The plain Japanese stuff will work fine. Chucky or creamy peanut butter? Your choice. No Chinese celery cabbage or napa cabbage? Green head cabbage works fine.
This is a recipe with only one definite requirement. The recipe will be ruined if the chicken is overcooked. Do not overcook the chicken. It doesn't matter much how you cook the chicken as long as it's not overcooked. I've roasted boneless, skinless breasts and shredded them after cooling. I've low‑temperature cooked breast meat to 57 °C (135 °F) with great results. I've used leftover roast chicken. It all works as long as it's not overcooked.
I found the original recipe on page 48 of the 1979 Sunset Chinese Cook Book by Janeth Johnson Nix. The recipe seems based on Chinese concepts, but some of the ingredients may not be available in China. For an amuse‑bouche, I've simplified the recipe, eliminated the cabbage, and reduced the quantities. Even so, it's still possible to get 8 servings from a single, half chicken breast.
Since the cabbage is eliminated, I serve the chicken in a single, green
shiso
leaf. This makes it possible to lift the chicken with your fingers. I also chop some dry‑roasted peanuts, and sprinkle a little on each serving.
200 g (7 oz)
shredded cooked chicken meat
1 T
chopped, dry‑roasted peanuts
peanut sauce
2 t
dark Chinese soy sauce
finely ground Szechwan peppercorn
1. To prepare the peanut sauce, stir the peanut butter and oil together until smooth. Mix in the remaining sauce ingredients, one at a time.
2. Combine some of the sauce with the chicken, and stir to combine. Do not over sauce the chicken. There may be sauce left over.
3. To serve, place a dollop of the chicken mixture in the center of a shiso leaf, and sprinkle with a little of the chopped peanuts.