March 3, 2014
Amuse-Bouche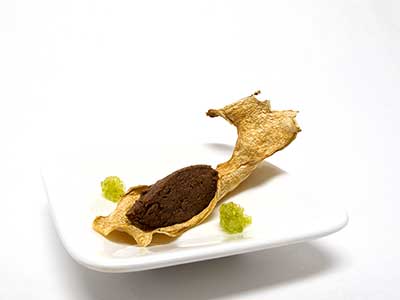 tapenade de fèves de cacao
(cocoa-bean tapenade)
It was our annual walkabout. We do it on the first nice Sunday of each year. Although we live just a couple of blocks from our small downtown, when we go there we drive to the store or restaurant and don't really see the area from ground level. The walkabout is different. We traverse the entire downtown, up one side of the street and back the other. This is the day we see what new stores and restaurants have opened and which old ones no longer exist. It was on our spring walkabout in 2013 that we first entered
Alegio Chocolaté
, which turned out to be almost a life changing experience.
Generally, I only eat dark chocolate with less than 30 percent sugar. I don't like milk chocolate. I don't like chocolate with various crispy or chewy things. I don't like flavored chocolates. I don't like chocolates that leaves a sour aftertaste. That's a real problem for me since most do. Panos Panogos, the co‑proprietor of the shop, introduced me to an untempered chocolate with no sugar, no lecithin, and no vanilla. It was from a producer by the name of
Claudio Corallo
. I put a small square of the chocolate in my mouth and let it melt. It was like no chocolate I had ever had before. (Ever since that day, I've eaten one of those little squares every night after my evening coffee.)
Around Christmas, I was in the store talking with Panos. He handed me a bag of roasted, peeled, and de‑germed cocoa beans. He also showed me his journal from his recent trip to São Tomé and Príncipe to visit Claudio Corallo at the plantation. On one page was a recipe for a tapenade that they created one evening. Panos suggested that I try to make the tapenade with the beans he gave me.
In the end, I used the beans for four different preparations with varying degrees of success. I first ground some of the beans and mixed them fifty‑fifty with ground
piment d'Espelette.
I used this combination as a rub for some pulled pork I was making. It turned out nice. The tapenade was next. That worked out really good, even though I didn't use Panos's recipe. The third try was to make a thin wafer of the chocolate, but that was a failure. I had suspected that the ground cocoa beans wouldn't melt and that proved to be the case. The last preparation was a combination of ground cocoa beans and cheese. I mixed grated pepper‑jack cheese with ground cocoa beans, arranged circles of the mixture on baking sheets, and melted the combination in the oven as I've done many times before with just
plain cheese
. This worked partway. The flavor was good, but the ground cocoa wasn't evenly distributed. This preparation will require more work.
When I initially made the tapenade it looked more like a dip than a spread, but a chill in the refrigerator solved that problem. The dish consists of solid particles suspended in an unstable emulsion. By chilling the mixture, the oil solidifies, and the mixture becomes formable and spreadable. It's important to use an oil that is solid at refrigerator temperature.
To serve, I decided to use thin pieces of dehydrated king oyster mushrooms instead of the traditional toast. I prefer the mushroom, but my wife still wants me to try serving it on toast. This quantity of ingredients will make about 12 servings.
roasted, peeled cocoa beans with the germ removed
8 g (about 2 large cloves)
garlic
10 g (about 5)
anchovy filets
1 t
salad or yellow mustard
1. Place all the ingredients except the salt in a high‑powered blender. Puree at high speed until smooth. Add salt to taste.
2. Transfer the tapenade to a small bowl, and chill thoroughly.