March 10, 2014
Mignardise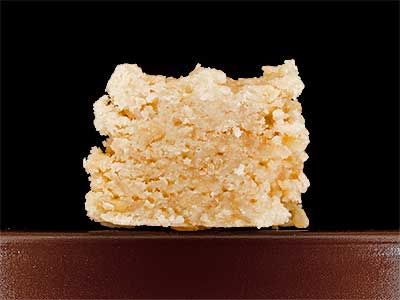 fondant au noix de coco
(coconut candy)
I drove back and forth across the country four times between August of 1967 and May of 1969. It was actually between Menlo Park, California, and Rochester, New York, a distance of 2,750 miles. The first trip took four days. The last trip took just under two days. Except for traveling through Pennsylvania and New York, the entire trip each time was made on Interstate 80. When I80 crossed I75 just south of Toledo, Ohio, there was always a sign giving instructions as to which ramp to use for I75 South. The sign also stated that I75 South was the ramp to take for
Lima
.
I always thought that Lima was pronounced like its namesake in Peru, the country. (There's also a town called Peru on I80 in Illinois and another one in Indiana, but not on I80.) It turns out that the town is pronounced with a long "i", the same as the bean.
I hadn't thought about Lima—I don't watch
Glee
—since my last cross‑country trip in 1972. Then on
The Old Foodie
website, I saw a recipe that had been published in the
Lima Times Democrat
in 1916. Like most of the recipes Janet Clarkson publishes on that fun website, the recipe for Coconut Candy was short.
Two grated coconuts, 1 tablespoon vanilla, 2½ pounds sugar. Wet sugar with milk of the coconut and let cook as for icing until it ropes, then add grated coconuts and cook a few minutes, stirring constantly. Pour into a bowl, add vanilla and stir until it begins to harden; then spread on buttered dish and cut in squares. If grated coconut in stock is used, wet with cream or rich milk.
I was intrigued. What would this candy be like? Was coconut milk the same as coconut juice in 1926? Nowadays, coconut milk is a puree of the coconut flesh. It is not what sits inside of a fresh coconut. What sort of endpoint is "rope"? Shouldn't "rope" be hotter than "thread"? In some ways, the recipe looks similar to a traditional fudge recipe. Maybe I should start with Fannie Farmer's fudge recipe?
I decided to use an earlier recipe,
fondant au caramel,
as a second starting point along with the original recipe. I don't know how close the candy I produced is to the original, but it is tasty nonetheless.
50 g (scant 2 oz)
desiccated coconut
30 ml (2 T)
coconut juice
200 g (1 c)
granulated sugar
75 ml (5 T)
coconut juice
1. Rehydrate coconut by mixing it with 30 ml (2 T) of coconut juice. Set aside for an hour or so.
2. Line a 7
1
⁄
2
by 12 cm (3 by 4
3
⁄
4
in), or similar size, cake pan with plastic wrap.
3. Place the remaining ingredients in a medium saucepan over high heat. Caution: The mixture will expand greatly when it first boils.
4. Stir continuously once the mixture starts to boil. When the color begins to turn to caramel, and the temperature exceeds about 130 °C (265 °F), add the hydrated coconut. Mix well.
5. Pour the mixture into the prepared cake pan. Level the top. Set the cake pan on a level surface in your refrigerator until the candy is cold and firm.
6. When cold and firm, remove candy from the cake pan. Cut into squares or rectangles, as is your preference.
Yield: Depends on how big you cut your pieces. I get about 30 1
1
⁄
2
‑cm squares from one batch.