April 7, 2014
Amuse-Bouche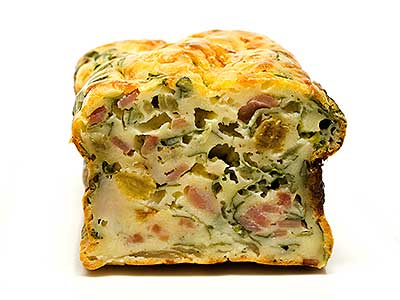 cake pounti auvergnat
(Auvergne-style quiche)
I didn't plan to make a quiche. I didn't even plan to make a custard. In the end, I did both. I thought I was making a cake. The recipe called for a cake pan. The recipe included flour, eggs, and baking powder. There wasn't much milk in the recipe. When I cut off the first slice, I could see that the crumb was smooth and dense. It was like custard and not like cake. Wow. Was I fooled.
The recipe occupied space in my "recipes to try" folder since 2009. The original recipe came from a cheap, French cooking magazine from around that time. I've checked through the three‑foot high stack of magazines that I collected from 1997 until 2009, but I can't find the issue with the recipe. The copy of the recipe that I'm using here is from a friend's blog—
Living the life in Saint‑Aignan
. His
posting
of the recipe was on September 30, 2009. It's only now that I finally got around to making the dish. I'm glad I did, even if it really wasn't a cake.
Cake pounti auvergnat purportedly is a traditional cake from the Auvergne, but I couldn't find historical information online, just many recipes. I did find a sideways reference in Tristan Hordé's Dictionnaire des mots de la table (Dictionary of Food Words).
Le pounti, préparation propre à l'Auvergne, comprend un hachis de lard, d'oignons et de bettes que l'on mêle à une pâte et que l'on cuit au four en y ajoutant quelques pruneaux. Le hachis peut être cuit dans un bouillon de légumes après avoir été enveloppé d'une feuille de chou ou placé dans un morceau d'intestin de porc: on l'appelle alors le pountari. Pounti, emprunté à un dialecte du Cantal, comme pountari, est d'origine inconnue. En Ardèche, un hachis assez proche est nommé pouytrolle, mot également d'origine inconnue.
This roughly translates as
Pounti, a dish from the Auvergne region, consists of minced bacon, onions, and chard, mixed into a paste, and baked in an oven along with some prunes. The mixture can be wrapped in a cabbage leaf or stuffed in a hog casing and then poached in vegetable broth. It is then called "pountari". Pounti is borrowed from a dialect of Cantal, whereas the origin of "pountari" is of unknown origin. In Ardèche, a similar dish is called "pouytrolle", the origin of this name is also unknown.
So the cake pounti seems to get some of its ingredients from or is inspired by pounti, but it sounds like quite a different dish.

The original magazine recipe called for a 26‑cm (10
1
⁄
4
‑in) long loaf pan. My version uses a 12‑cm (4
3
⁄
4
‑in) long by 7
1
⁄
2
‑cm (3‑in) wide by 7‑cm (2
3
⁄
4
‑in) deep loaf pan to produce 12
amuse‑bouche
portions. I also substitute a combination of whole milk and cream for the low‑fat milk in the original recipe.
1 extra‑large
egg, beaten
25 ml (1 T + 2 t)
canola oil
20 ml (1 T + 1 t)
heavy cream, warm
25 ml (1 T + 2 t)
whole milk, warm
cooked ham, cut into fine strips
smoky bacon, cut into fine strips
chard leaves, green part only, cut into fine strips
fine salt and freshly ground black pepper
1. Preheat oven to 180 °C (355 °F). Grease a nonstick loaf pan.
2. In a bowl, stirring with a wooden spatula, combine the egg, flour, and baking powder. Incorporate the oil, a splash at a time. Stir in the cream and milk until very smooth. Add the remainder of the ingredients, and stir to incorporate.
3. Transfer the mixture to the loaf pan. Level the top. Bake until cooked through, about 45 minutes. Remove the cooked "cake" from the loaf pan right after removing the pan from the oven. Cool on a rack.
4. To serve, trim off the ends. (Snack on the ends.) Cut the remainder of the loaf into 6 thick slices, and cut each slice crosswise into two pieces. Vacuum pack and freeze the pieces if not eating within a few days.