April 21, 2014
Mignardise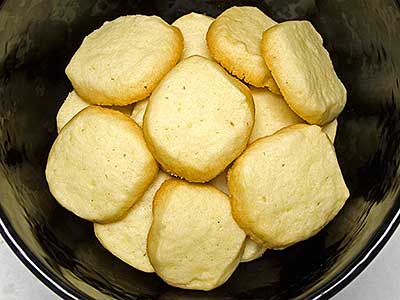 biscuit à la milanaise
(Mailänderli)
For my mother, it was the dessert version of "taking coals to Newcastle". Maybe I should say she "brought firewood to Newcastle"? When she and my father ate at the best restaurant in town, she brought homemade cookies for the two of them to eat for dessert. She also brought extra cookies to give to the kitchen help. Nowadays, she would be charged corkage—maybe it would be called "crumbage"?—but in those days the restaurant staff and owner seemed to enjoy her and the cookies.
Everyone liked the cookies that my mother baked. They were never complicated or fancy. Just good butter cookies. Some came from a cookie press, some cut‑out from rolled dough. Occasionally she would stray and make peanut butter cookies or chocolate‑chip cookies. (She only knew chocolate‑chip cookies by the non‑generic name of Toll House cookies.) One cookie that she made often was the Mailänderli, a cookie from the German‑speaking part of Switzerland and Southern Germany.
Although my mother was from Southern Germany, the recipe she used came from a neighbor who was Swiss. Her name was Irene Bachman. I don't remember too much about her. Her house was across and one house to the left from ours on Iris Street in Redwood City, California. My parents had moved there from San Francisco in 1947, the year before I was born. We moved into a bigger house two towns further south in 1957, so I only lived in this house for my first seven years.
The few factoids I remember about Irene are that she had two sons that were closer to my brother's age than mine, that one night their garage caught fire and burned to the ground, and that her husband was diagnosed with cancer of the jaw on a Friday and died sometime on the following Sunday. In the 1960s, when my parents made a trip to Europe—my mother's first visit to her Munich, her hometown, since she left in 1933—Irene came to stay with me. She made some Swedish meatballs that I really liked, at least until the food poisoning set in.
The same night [01175] that I found my grandmother's recipe for leberknödel, I also found my mother's recipe card with the Mailänderli recipe. I knew immediately that I had to give it a try.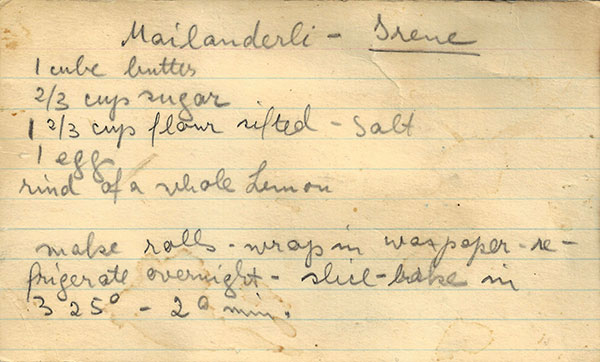 All the online recipes I've found for Mailänderli call for brushing the tops of the cookies with an egg‑yolk wash before baking. My mother never did, so neither am I.
30 g (2 T)
unsalted butter
1. Cream the butter and sugar together. Mix in the egg, salt, and lemon oil until smooth.
2. Beat in the flour until the mixture comes together and is smooth.
3. Fashion the dough into a 2‑cm (
7
⁄
8
‑in) square log. Wrap tightly with plastic wrap. Refrigerate until quite hard, a few hours or overnight.
4. Preheat oven to 160 °C (320 °F).
5. Unwrap the dough, and cut crosswise into 6‑mm (
1
⁄
4
‑in) thick slices. Arrange on a silicone‑rubber pan liner on a baking sheet. Bake until the bottoms begin to brown, about 20 minutes.
6. Cool on a rack.
Yield: About 20 cookie.