May 12, 2014
Mignardise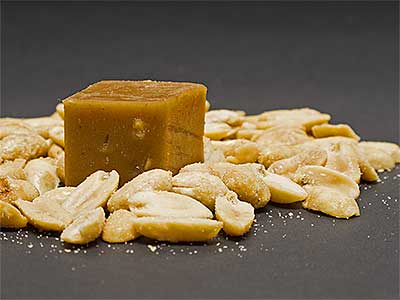 yokan au beurre d'arachide
(peanut butter jellies)
Azuki beans. Red beans. Red‑bean paste. Everywhere. Can't be avoided. Not my favorite red thing.
I'm not a big fan of azuki beans or the red bean paste fashioned from the beans that is used as an ubiquitous filler in many Japanese sweets. Therefore, I'm not a fan of the traditional Japanese sweet called yokan.
It's not the concept I don't like, it's the red beans. So when I was taking a course a few years back and was introduced to a Dave Arnold recipe for pecan butter yokan, I was intrigued. No azuki beans. One of the pictures especially caught my eye, the yokan had been made into flat noodles. Seemed worth a try.
A couple of years after first seeing the recipe, I decided to make it. Being cheap, I used some of my wife's peanut butter that had been sitting in the refrigerator for a couple of years. I tried both smooth and crunchy. I liked the crunchy best. Neither style worked well for the noodle shape—too brittle.
crunchy‑style peanut butter
1. Place the water in a small saucepan, and sprinkle the agar over the surface. Bring the water to a boil over high heat while continuously whisking to hydrate and dissolve the agar.
2. Add the sugar. Continue to heat and mix until the sugar is dissolved.
3. Remove the saucepan from the heat. Stir in the peanut butter with a rubber spatula. Continue stirring vigorously until the mixture is smooth.
4. Pour the
yokan
into
a 7

1

⁄

2

by 12 cm (3 by 4

3

⁄

4

in)
cake pan with a removable bottom. (See note.) Set the pan on a refrigerator shelf in a manner such that the surface is level. Chill until quite firm.
5. Unmold. Cut into squares for serving.
Yield: 16 portions.
Note: A standard loaf pan lined with plastic wrap can also be used as a mold.