June 2, 2014
Intermède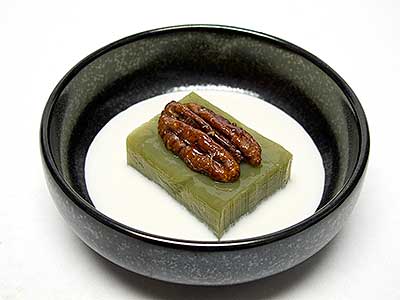 mochi de thé vert
(green-tea mochi)
At one point in the 1980s, I was flying close to 200,000 miles a year: All on United Airlines and all domestic. This meant that I was spending more time in the air and in airports than I was at home. When I looked back at the end of one year, I had spent 40 weekends on the road.
In those the days, the frequent flyer program was such that I never had to ride in the back of the plane. At one point, I considered having "Seat 1C" tattooed on my arm so I'd have a permanent boarding pass. I was so bored with everything about flying that I rarely ate the meals even though back then some of the first‑class dishes were quite good. I'd just get into my seat, put some opera on my Walkman, and read the latest Leon Uris or Tom Clancy or Herman Wouk novel, assuming it was available in paperback.
When the flight attendant took my drink order, usually Jim Beam neat, I would be handed a small bag of nuts. This was the time of peanuts in coach and before the United switched to pretzels. In first class we were served pecans. Initially, I welcomed the pecans, but like all things in the air, they became boring. So I'd throw the bag in my briefcase to eat later or take home. When I got home, they just went into a bowl still in their bag. They were seldom eaten. On one flight I was recognized by a flight attendant, and she gave me about thirty bags of nuts that were extra on that flight. Those came home, too.
At Thanksgiving, I decided to put out a bowl of pecans for the guests to munch on. So I started opening and emptying bags of pecans. I opened and emptied for what seemed like an hour to fill a serving small bowl. It turned out that there wasn't many nuts in each little bag. It was easier to just go out and buy a big bag at my local market for a few dollars. And now, that's what I do. I always have pecans on hand, but since that Thanksgiving Day, I never saved another bag of nuts from an airplane.
My favorite pecans are lightly candied. I was thrilled when I found a
recipe
in my local paper by a pastry chef, Emily Luchetti, that I respect. Here's my adaptation of her recipe. It produces about a cup of candied nuts, depending on in‑process nibbling.
30 g (rounded 2 T)
granulated sugar
1. Preheat oven to 350 °F. Line a rimmed baking sheet with foil.
2. Combine the sugar, water, corn syrup, and salt in a small saucepan over medium heat. When the mixture boils, remove the saucepan from the heat. Add the nuts, and stir to completely coat each nut with the syrup.
3. Spread the nuts in a single layer on the prepared baking sheet. Bake for 8 minutes.
4. Remove the baking sheet from the oven. Stir the nuts to insure that they are all coated with the syrup. Return the nuts to the oven. Continue baking them until the nuts begin to darken slightly, about 6 minutes more.
5. Remove the nuts from the oven. Turn them with a spatula so they don't stick together as they cool.
6. Let cool completely. Store in an airtight container.
So I made the candied pecans and put them in a jar. Then wondered what I would do with them? That question was answered by the next recipe. By itself, the
macha kuzu mochi
that I found on the Cooking with Dog website wasn't very exciting, but with a candied pecan on top, it was fantastic.
25 g (0.88 oz)
kuzu powder
15 g (4 t)
granulated sugar
1. Prepare
a 7

1

⁄

2

by 12 cm (3 by 4

3

⁄

4

in)
cake pan (see note) with a removable bottom by rinsing it with cold water and leaving the surface wet.
2. Place all the ingredients in a small saucepan over high heat. Whisk continuously until the sugar is dissolved, and the mixture is thick and smooth.
3. Immediately pour the thickened mixture into the cake pan. Set the pan on a refrigerator shelf in a manner such that the surface is level. Chill.
4. Unmold. Cut into rectangles for serving.
Yield: 8 portions.
Note: A standard loaf pan of a similar size lined with plastic wrap can also be used as a mold.
To serve the mochi, add a tablespoon of cream to each serving dish. Place a rectangle of the mochi on the cream. Top the mochi with a candied pecan.