May 19, 2014
Amuse-Bouche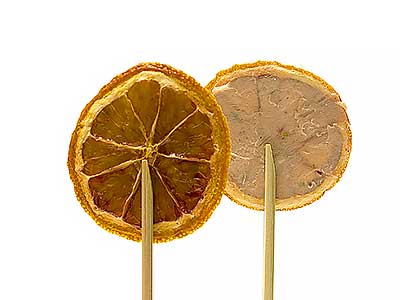 beurre de Rangemore
(Rangemore butter)
To want to know all but to know so little. That's my problem with Rangemore Butter. The recipe for the preparation appears in the July 17th, 1939, edition of
The Times,
the big one from London. This seems to be the only printed recipe in existence for Rangemore Butter. Here's all the paper had to say.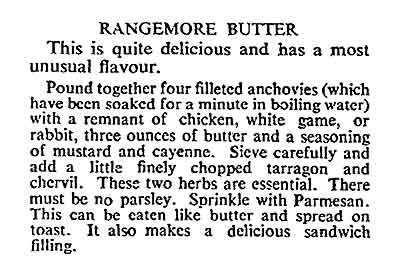 I was first intrigued by the phrase, "a most unusual flavor." With ingredients like anchovies, leftover rabbit, butter, mustard, cayenne, tarragon, and chervil, it had to either be good or god‑awful. It turned out to be great. (Many thanks to
The Old Foodie
website for introducing me to this recipe.)
Preparing a seventy‑five‑year old recipe does have a couple of challenges. The recipe just states anchovies. Were these fresh or tinned? Rangemore is in the middle of England, but no where in the country is very far from the sea and fresh seafood. If tinned, were the anchovies salted or packed in oil. Was the mustard a dry powder or prepared?
You'll note from my recipe that I left out the mustard, cayenne, tarragon, chervil, and parmesan. I also greatly reduced the amount of butter. The resulting spread still had an anchovy flavor with just the remaining ingredients. I tried it on thin crackers, but I found that I preferred it on thin slices of dehydrated blood orange.
To prepare the Rangemore butter, I finely diced five oil‑packed anchovy filets. I also finely diced a couple of slices of leftover roast pork tenderloin. There was about twice as much pork as there was anchovy. I also finely diced a single green onion stalk. These three ingredients were placed in a large
suribachi.
Everything was ground together until a smooth paste formed. To this I added 30 grams (1 ounce) of chilled, diced butter. Once again, the mixture was ground together into a smooth paste.
To serve, a thin coating of the prepared butter was spread onto a slice of dried blood orange. The above mixture was enough for about 12 servings.
The combination of ingredients sounds yucky but tastes yummy.