June 30, 2014
Amuse-Bouche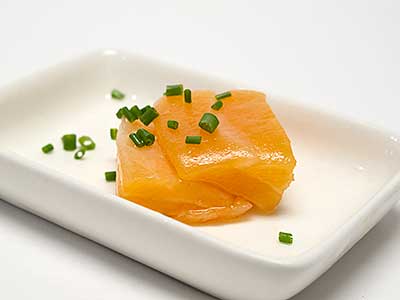 confit de saumon
(barely cooked salmon)
I've attended the Oxford Symposium on Food and Cookery each summer since 2008. I'm told by outsiders that the food and accommodations were atrocious when the Symposium was at St. Andrews College. Now the food is mostly great, and the rooms—if you know what to ask for—are quite nice. The nicest meal was, I think, in 2009 when Raymond Blanc of Le Manoir aux Quat'Saisons prepared the Saturday evening meal for the attendees. I wrote about the first course,
essence de tomate,
three years ago.
Back then I still had the menu. Now I can't find it on my shelves. I do remember the second course was a salmon confit. Luckily, I was able to find a blog posting by Blanc on the Caterer and Hotelkeeper website—the page no longer exists, but a cached version without pictures is archived
here
—and tucked a copy away in my "recipes to try" folder. I remember the one served at the Symposium to be a little different than this recipe. Since they were serving 250 people simultaneously, they may have modified it a bit.
The published recipe bases it cooking times and temperature on a 70‑g (2
1
⁄
2
‑oz) piece of salmon. I've started with those times and temperatures, but each time I make this dish I will reduce the time a bit. Cooking 18 minutes at 42 °C (107.6 °F) produces a delightful mouthful, but it is slightly overcooked compared to my memory of Chef Blanc's salmon. Reasons for the difference, among other factors I haven't identified, may include salmon variety, mass of the fish, mass of the oil, and calibration of equipment.
4 cubes, 2.5 cm (1 in) on each edge
salmon
pinch
finely sliced chives
1. Sprinkle salmon cubes on all sides with a little salt and sugar, and set in your refrigerator for about an hour.
2. Rinse salmon cubes with cold water. Drain on absorbent paper. Chill thoroughly.
3. Vacuum pack with oil. Freeze if not using right away.
4. Cook sous vide at 42 °C (107.6 °F) for 18 minutes.
5. Lift salmon out of bag, and drain briefly. Garnish with a few finely sliced chives if desired. Serve immediately on slightly warm plates.