August 11, 2014
Amuse-Bouche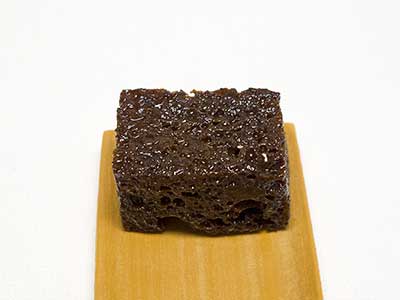 gluten de blé braisé avec cinq-épices
(five-spice braised wheat gluten)
When I seriously started cooking Chinese food in 1975, there was one ingredient that I would run across in certain cookbooks that I had no interest in finding or trying. It only appeared in cookbooks written in China for a Chinese audience, and I was lucky that many of these books had been translated into English in Hong Kong and thus were not Americanized in any way, including removing ingredients not available in America. The ingredient showed up mainly in vegetarian dishes. The ingredient was wheat gluten.
Recently, on a five‑day trip to Hong Kong, I ordered wheat gluten dishes at three of the eleven meals I ate there. I loved it each time. Why had I waited? I ordered the dish the first time because another couple at our communal table ordered the dish, and it looked really good.
Wheat gluten is very interesting. It has absolutely no flavor by itself. Its appearance is similar to sandwich bread but with a chewier texture. It's available fresh in 280‑g (10‑oz) packages at my local Asian market. There's even a couple of brands to choose from, and they all cost less than $3 a package.
One problem I encountered while creating this recipe is that one package of wheat gluten will produce about 75 amuse‑bouche portions. Although the finished cubes freeze well, and they are served cold, that's still more than I want sitting in my freezer.
Another problem I encountered during testing was that the gluten could absorb what seemed like massive amounts of liquid, and if not watched carefully, the cooking liquid could all be absorbed and the bottoms of the gluten cubes burned. (It took two hours to scrap the mess off the bottom of my wok, and it wiped our twenty years of seasoning in the process.)
300 g (10 oz) block
fresh wheat gluten
50 ml (3 T)
vegetable oil
5 whole
dried red chilies
30 ml (2 T)
light Chinese soy sauce
30 ml (2 T)
dark Chinese soy sauce
Chinese five‑spice powder
1 t
roasted sesame seed oil
1. Cut the wheat gluten into cubes that are about 2 cm (
3
⁄
4
in) on each edge. Depending on the block, it may be necessary to make slightly longer and narrower cubes to minimize waste.
2. Heat the oil in a wok over medium heat until it starts to smoke. Add the gluten, and fry, continuously stirring, until the edges and some of the faces brown.
3. Add the star anise, chilies, the two soy sauces, sugar, five‑spice powder, and about 200 ml (1 c) of the water. Mix well. Lower heat to simmer, cover, and gently cook.
4. Initially, stir every few minutes to ensure that the lowest possible boil is maintained, and the liquid hasn't dried out. As the liquid is absorbed by the gluten, add more water in 100 ml (
1
⁄
2
c) increments. Stir quite often. Cook for a full hour.
5. After an hour, remove the lid, and turn the heat back to medium. Continue stirring until all the non‑absorbed liquid is evaporated.
6. Turn off the heat. Add the sesame‑seed oil and blend.
7. Turn the mixture out onto a parchment‑paper lined, rimmed baking sheet. Remove and discard the chilies and anise seed pods. Arrange the cooked cubes so that they are separated.
8. Any cubes being served within a day can be set aside and refrigerated. The rest should be frozen on the baking sheet. When frozen, package the cubes for storage.
9. Thaw the cubes before serving.