August 25, 2014
Mignardise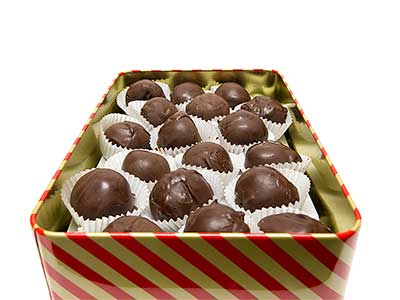 les bonbons de Martha Washington
(Martha Washington candy)
Martha Washington didn't make chocolate‑covered candies. Chocolate is not an ingredient in any of the recipes in either of the
manuscripts
now given Martha's name. Other ingredients of these modern candies were also missing from the recipe collections. Dried coconut wasn't quite yet making the trip to Northern Virginia. Sweetened condensed milk, wouldn't exist for almost another century. I substituted cashews for the pecans, which she would have been aware of since her hubby had pecan trees—he called them Mississippi nuts—at Mount Vernon.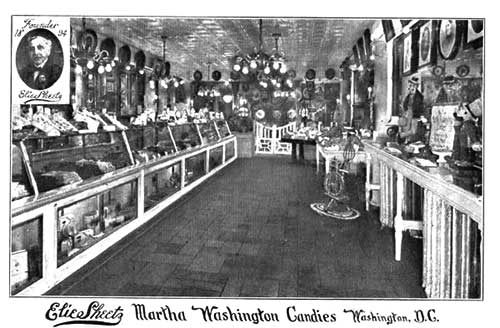 Apparently, there was a chain of candy stores in business from the early‑1870s to the mid‑1930s called Martha Washington Candies. At its height, according to the
Brooklyn Daily Eagle,
the business was the largest retail candy store in the United States with "eighteen factories, one hundred stores and more than 600 agencies making and selling sixty‑five varieties of candy and doing a business of several millions of dollars yearly."
How these particular candies came to be called Martha Washington's or Martha Washington's Candies is unclear. One
website
described the candies as being "very close in comparison to an Almond Joy or Mounds bar, but better, because they are homemade, of course, and much fresher!" It was the Mounds bar comparison that originally caught my eye. My brother and I were named after the
manufacturer
of the Mounds bar.
Apparently, when my brother was born in November, 1943, during the Second World War, our father was elsewhere serving in the army. My mother, needing a name for my brother's birth certificate, turned to a nearby candy bar for guidance. Thus, Paul was named. When I came about 4
1
⁄
2
years later, it seemed only fitting to her to use the second half of the pair of names for me. I'm not sure if my Jewish mother ever understood the irony of naming her sons after some of the most important saints in the catholic church.
All the recipes that I found for these candies listed sweetened condensed milk as one of its ingredients. Not having any, and not wanting to have a half used can left over, I decided to make my own. I simplified a recipe by
Elizabeth Labau
, which I used for the basic ingredients and quantities.
145 g (1 c)
nonfat dry milk
1. Place all the ingredients in a bowl and whisk until smooth. If too thick, add a bit more boiling water. Refrigerate until needed.
In the end, the above recipe made about the equivalent of one can of sweetened condensed milk. So I still had leftover milk to deal with. The
recipe
I modified for my candies, like all the recipes I found for Martha Washington's Candies contained pecans. I had pecans on hand, but not enough so I substituted cashew meal, which I had lots of. I also dialed back the sugar by about three‑fourths. I halved the basic recipe, but I was still able to easily make four dozen candies along with a couple of tasting samples.
100 g (1c)
finely granulated sugar
90 g (1 c)
unsweetened coconut flakes
300 g (11 oz)
chocolate, 72% cocoa mass, melted and tempered
1. Place all the ingredients except for the chocolate in a bowl. Mix with a rubber spatula until homogenous. Chill thoroughly.
2. Prepare a parchment‑paper‑lined baking sheet. Using a 1 T scoop, scoop out portions of the filling, and roll into balls. Chill again.
3. Prepare a parchment‑paper‑lined baking sheet. Prepare the melted chocolate. Dip the chilled balls of filling into the chocolate. Drain on the parchment‑paper‑lined baking sheet. Patch any holes in the coating with the remaining chocolate.
4. When the chocolate has hardened, place the chocolate candies into paper cups.