October 27, 2014
Mignardise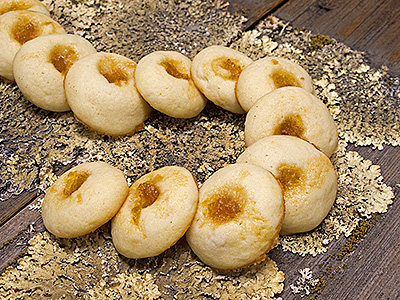 biscuits sablés de Douglas
(Douglas' shortbread cookies)
Today I spent way too much money on a cookbook. I think that at $500 it's my most expensive book purchase. Even my 18th‑century French cookbooks come nowhere close in cost. The most I had previously spent was $420 on Modernist Cuisine, and that purchase has, for the most part, been disappointing. The new book, elBulli 2005–2011, has seven volumes, two more than the previous high‑end book, and it also comes in an acrylic holder. I hope I like it better. The last thing I need is another coffee‑table book large enough to be its own coffee table.
Once I clicked on the "proceed" button to seal the deal for the book, I found myself enrolled in a form of "frequent‑flyer program" with the publisher. I now have a credit of 15,000 points to use. Looking through their catalog I saw there was one book that could possibly interest me. I clicked on it. Along with the usual book description material and the chance to view a couple of sample pages, there was a curious picture of what looked like eyeballs on a piece of weathered wood. Clicking on the picture revealed a recipe for Douglas' shortbread cookies. The headnote read:
One of the first chefs to be employed at Fäviken was Douglas, who started making these biscuits (cookies) from an old recipe given to him by his grandmother. When Douglas left us to take on another challenge we continued baking the biscuits. There is always a batch on the go somewhere at Fäviken. They are served daily after breakfast or as a snack during the day
I found the recipe at about one this afternoon. By two, the first batch was coming out of the oven. By five, I had gone back online and used 4995 of my points to buy the Fäviken cookbook.
My cookies look a different than the picture because I'm making a smaller size suitable for mignardise. Their recipe makes 20 cookies. Preparing a half recipe, I was able to bake 4 dozen cookies and have a few left over for quality control. Mine also look dissimilar because I chose a different‑colored jam for the filling, and my weathered wood has lichen on it.
unsalted butter, at room temperature
1 extra‑large
egg, beaten
1. Preheat oven to 200 °C (390 °F). Prepare two rimmed, half‑size baking sheets with parchment paper or silicone mats.
2. Using your hand, incorporate all the dry ingredients with the butter. The dough should become quite smooth. Use a rubber spatula to mix in the egg. Mix until the dough is smooth.
3. Use a 1 T scoop to place mounds of dough on the baking sheets. Space them far enough a part to allow them to triple in size during baking. Roll each mound of dough into an even ball. Make a round depression in the top of each ball of dough using the end of a round‑handled wooden spoon dipped in flour. This will flatten the balls a bit. Fill each depression with a little jam.
4. Bake the cookies until golden, about 11 minutes. Transfer the cookies to a cooling rack as soon as they firm up, a minute or so after being removed from the oven.