November 17, 2014
Mignardise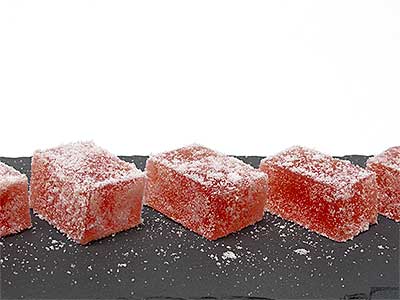 « gum drops » de orange sanguine
(blood-orange gum drops)
In his 1915 obituary for the dwarf actor
Marshal Pinckney Wilder
,
Elbert Hubbard
ends a paragraph where he described Wilder as having a sound mind locked inside of an unsound body with the sentence: "He picked up the lemons that Fate had sent him and started a lemonade‑stand." Supposedly, this line is the original version of the common aphorism: "When life gives you lemons, make lemonade." My sister‑in‑law gave me blood oranges, so I made blood‑orange gum drops.
Note: I used a cake pan with a 96‑sq cm (14
7
⁄
8
‑sq in) surface area. You will need to adjust the ingredient amounts for your mold or pan in order to produce the proper thickness gum drop.
neutral‑tasting vegetable oil
strained blood‑orange juice, divided
30 g (1 oz)
160‑bloom strength gelatin powder
a few drops
pink grapefruit essential oil [optional]
a few drops
red food coloring [optional]
finely granulated sugar, for dusting
1. Coat the inside of your mold with oil.
2. Bloom the gelatin powder in 50 ml (3
1
⁄
3
T) of the juice.
3. Place the remaining juice in a saucepan along with the granulated sugar. Bring to a boil over high heat, stirring occasionally until the sugar is dissolved. Continue boiling the mixture until its temperature reaches 115 °C (238 °F).
4. Remove the saucepan from the heat and stir in the gelatin‑juice mixture. If using, add the grapefruit oil and food coloring. Pour the mixture into the prepared mold, and set aside on a level surface. When cooled to room temperature, refrigerate.
5. Place a scoopful of finely granulated sugar onto a quarter‑size baking sheet or rimmed plate. Remove the block of candy from the mold, and coat with sugar. Cut the block into bite‑sized pieces, coating the exposed surfaces immediately with sugar.
6. Store the gum drops in your refrigerator in an air‑tight container with the sugar. Shake the excess sugar from the gum drops before serving them.
Yield: 16 pieces.