December 29, 2014
Mignardise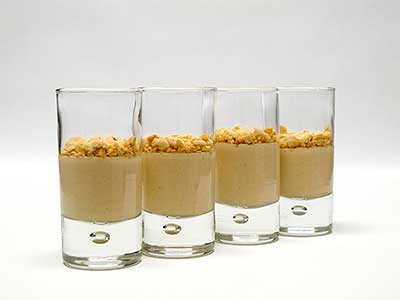 mousse de cheesecake au beurre d'arachide
(peanut-butter cheesecake mousse)
Some are good. Some are bad. Some are great. Some are so bad that I want to put my fist through my monitor. I have a love‑hate relationship with cooking videos. As much as I hate most of them, I'm still attracted to them like the proverbial moth.
In the past I've mentioned two YouTube series,
Cooking with Dog
and
Ochikeron (Create, Eat, Happy),
that I subscribe to and watch on a regular basis. Recently I've added
The Simple Cooking Channel
to my YouTube subscription. This Australian series is so campy that even when I would never do the recipe being demonstrated, I can still be entertained. I'm a simple person.
Like the other two series, the presenter‑cook is never identified by name, so I'll just call him Simple Guy. The Simple Guy posts one or two videos each week, an amazing task for an individual that appears to not be working with a full crew. It looks like he started with a balance of sweet and savory dishes, but these days most videos are sweet dishes. The recipes appear easy and popular. It's not unusual to find videos on the site with 50,000 to 100,000 views. Recipes like
Rainbow Unicorn Poop Bubble Gum
have over a million views. (That must be due to the popularity of
unicorn poop
in the Internet!)
One day during a period of abject boredom, I was killing time looking at YouTube cooking videos. The Simple Guy's video of
Peanut Butter Cheesecake
appeared on my monitor. It looked like it might work when adapted to the size and quantity of a
mignardise.
Accordingly, I bought some cream cheese on my next trip to the market. The finished "cake" had a great taste but was too soft to cleanly cut into
mignardise
‑size pieces.
I believe that the issue with this "cake" is the cream cheese. Not all brands of cream cheese are created equal. Since this "cake" has no eggs and is not baked, it depends on whatever gelling and stabilizing agents are in the cream cheese to help it set properly. I decided that the solution lay in repurposing the "cake" as a mousse. Within the confines of a serving dish, all would be well.
cream cheese, at room temperature
30 g (2 T)
cream‑style peanut butter, at room temperature
25 g (2 T)
finely granulated sugar
coarsely ground, unsalted, roasted peanuts
1. Mix everything except for the peanuts together until smooth. Divide the mixture between serving glasses.
2. Divide the nuts between the serving glasses and gently press the top surfaces to flatten.
3. Chill well before serving.
Yield: 4 servings, about 50 ml (1
2
⁄
3
fl oz) each.