March 16, 2015
Amuse-Bouche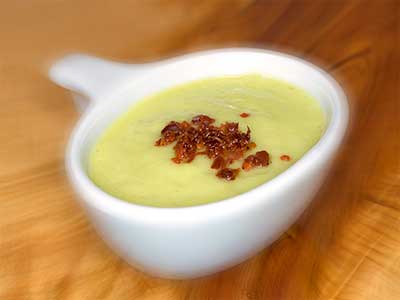 soupe onctueuse d'avocat
(creamy avocado soup)
Why do Americans insist on putting a country in front of so many preparations? Why do we have to call a dish French fries or French toast, German potato salad or German pancakes, Polish or Italian sausage, or even Chinese chicken salad? Pommes frit or pain perdu sound so much nicer to my ear. I'm not sure there's a Chinese name for Chinese chicken salad—I think it was created in the United States—so we may be stuck with that name.
This points our way to French dressing. The term may also refer to an archaic treatment for shoe leather, but I'm interested in the stuff that Americans put on their lettuce salads. Every 19th‑century recipe for French dressing I can find describes it as a standard vinaigrette made a minimum from oil, vinegar, salt, and spices. The earliest use of the exact phrase "French dressing" in American cooking seems to have been in Mrs. Lincoln's Boston Cook Book by Mary Johnson Bailey Lincoln published in 1884. Eliza Action's 1845 American edition of Modern Cookery in All Its Branches uses the phrase "French salad dressing" as a reference to a vinaigrette, and Eliza Leslie makes no reference at all to either French dressing or vinaigrette in her 1847 The Lady's Receipt‑Book. Leslie does refer to many other things French including French beef, French brandy peaches, French charlotte, French chicken pie, French hungary [sic] water, French icing, French oyster pie, French pies, French lamb cutlets, and French stew of rabbits. Three years later in her Lady's New Receipt‑Book she gives a recipe for Spanish Salad that "just before the salad is to be eaten" is splashed with a dressing with the same ingredients as a vinaigrette.
Sometime in the early 20th century, it was decided that the vinaigrette called French dressing has to include tomato paste in some form. Although a modern grocery store sells a myriad of salad dressings, there generally will not be one labeled "vinaigrette." Occasionally there may be a balsamic vinaigrette, but not a simple vinaigrette. The bottles of French dressing all include tomato paste and may have additional adjectives in their names. At one of my local markets I can buy something labeled California French Dressing—whatever that means. It looks like plain, red salad dressing.
The one French dressing I can't find is Milani 1890 French dressing, the salad dressing of my childhood. Although it's not to be found at my local market, if I were inclined I could purchase it from Amazon and a slew of other online sources. I won't order any soon since it probably won't taste like I remember from fifty years ago.
Milani 1890 French Dressing was introduced in 1938, or so the current manufacturer's website claims. J.L. Kraft purchased the Milani's French dressing line in the 1920s according to another site, and French dressing was the first pourable dressing Kraft produced. I haven't been able to determine if they were the first company to add tomato paste to a vinaigrette and call it French dressing, or if their original product was a simple vinaigrette.
Modern Milani 1890 French dressing is a vinaigrette pumped up with thickeners and preservatives. The list of ingredients contains soybean oil (vinaigrette ingredient), water (reduces acidity), vinegar (vinaigrette ingredient), tomato paste (makes it truly American), dextrose (sweetener), salt (vinaigrette ingredient), paprika (coloring), xanthan gum (emulsifier), citric acid (preservative), propylene glycol alginate (emulsifier), natural flavor (who knows), apocarotenal (coloring), beta carotene (coloring), and calcium disodium EDTA (preservative). Even with all the emulsifiers, the bottle still requires vigorous shaking before use.
Why am I interested in Milani 1890 French dressing? As a teenager and into my early thirties, about the only way I liked to eat avocados was cut lengthwise in half, seed removed, and with the cavity filled with Milani 1890 French dressing. Today, I like to eat avocados cut lengthwise in half, seed removed, and sprinkled with fine salt.
Coincident with my first long, restaurant stage in France was the publication of the May, 2000, issue of a food magazine called Guide Cuisine. I was still buying all the French cooking magazines I could find during my travels in those days. On page 20 was a recipe for velouté d'avocat (avocado soup). It was one of the first recipes I made on my return to California. This amuse‑bouche version is a simplified from the original recipe. The avocado flavor can seem both intense and subtle at the same time, if that's possible.
I puree the avocado by forcing it through a sieve. This is very quick and easy with ripe fruit. The Aleppo pepper was chosen for color, but it adds a nice flavor. Parmesan shavings are even better, but not as photogenic.
Aleppo pepper, for garnish
1. Place all the ingredients except the Aleppo pepper in a tall, glass beaker. Using an immersion blender fitted with a chopping tip, thoroughly puree the mixture. If not using the mixture within a few hours, cover the beaker with plastic wrap, and refrigerate it.
2. To heat for serving, place the beaker in simmering water. Stir frequently. Only warm the soup. (Too much heat can cause the world to cease to exist!)
3. Use a foaming tip on an immersion blender to foam the soup before serving. Divide the soup between serving glasses. Garnish with Aleppo pepper, or whatever you wish.
Yield: about 8, 1‑oz portions.