April 27, 2015
Amuse-Bouche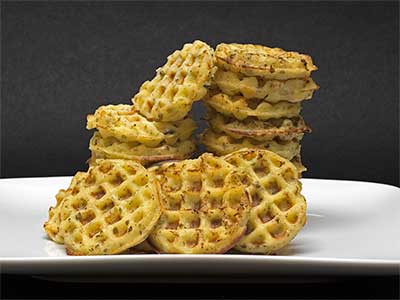 gaufres de pommes de terre
(potato waffles)
I call it the law of the instrument, and it may be formulated as follows: Give a small boy a hammer, and he will find that everything he encounters needs pounding.
Thus wrote Abraham Kaplan in The Conduct of Inquiry: Methodology for Behavioral Science in 1964. The phrase has been quoted in many ways since then. I learned it as
Give a kid a hammer, and the whole world becomes their nail.
It's an aphorism that has many examples in restaurant and home kitchens. When we buy a new toy—ahem, appliance—we want to use it for everything in sight. That seems to describe me and my
mini‑waffle maker
.
I've yet to use it for traditional waffles. I first used it to cook
chicken sausage
. Now I'm using it for potato pancakes—strike that—potato waffles. They didn't start as waffles, but that's how they wound up. Who knows? Next week I may actually make ordinary waffles.
When I was working on last week's
posting
, I pulled my copy of Joël Robuchon's 1994 potato cookbook,
Le Meilleur & le Plus Simple de la Pomme de terre,
off the shelf to review. In there I found a couple of recipes that I had earmarked when I first bought the book. One recipe was for a potato salad and the other was for what in the picture looked like potato pancakes. The recipe is titled
pommes de terre Robert.
There's no mention as to who Robert is or was. Maybe the same unknown Robert from
sauce Robert ?
The recipe, as written in the book, is a bit convoluted. First, you cook the potatoes using a recipe 12 pages earlier called pommes Macaire. (I don't know if Macaire refers to the Irish saint or someone else. The recipe shows up in a lot of places. It's a thick mashed potato pancake cooked in a frying pan.) The earlier recipe is primarily potatoes, cream, and butter. More cream and butter plus eggs are added to the first preparation to make the final mixture. So, why not combine everything into a single step? Not knowing any better, that's what I did.
Yukon‑gold potatoes, peeled, cut into 2‑cm (
8
⁄
10
‑in) thick slices
1. Cook the potatoes in boiling water until easily broken with a finger poke. Drain very well. While still quite hot, rice the potatoes into a bowl. You should have about 250 g (8
7
⁄
8
oz) of cooked potato.
2. Combine the potatoes with the remainder of the ingredients to form a smooth batter.
3. Preheat an electric waffle iron capable of making 5‑cm (2‑in) round waffles. When hot, place a
1
⁄
2
T of batter on each waffle pattern and latch the cover closed. Cook until the sizzling appreciably slows, about 3 to 4 minutes. Remove the batch of waffles. Let the iron come back to heat before starting next batch. Trim any non‑round parts with scissors.
4. Individually freeze the waffles.
5. To serve, reheat the waffles in a 100 °C (210 °F) oven until warmed all the way through. Serve as is, or top with a little sour cream and caviar.
Yield: 20 mini‑waffles.