June 8, 2015
Amuse-Bouche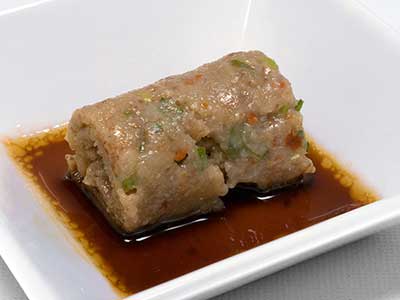 rouleau de haricots à la vapeur
(bean roll)
What do Jackson Wonder, Black Calypso, Cannellini, Pinquito, Canario, and Baby Lima have in common? They are all varieties of dried beans. I recently received a box with one twelve‑ounce bag of each variety along with a baseball cap with the producer's name on it. It was my prize for winning a recipe contest they sponsored on their Facebook page. What does this mean for you? Until the supply is gone, you'll probably be seeing a lot of recipes on these pages using dried beans. This posting is the first of those recipes.
I started with the Jackson Wonder beans because I liked their black and white patterned skin. Of course, the first thing I did was to grind them into a powder so the pattern really didn't make a difference. Like the two previous dried bean postings on this blog—
haricots soufflées
(bean biscuits) and
crêpe des haricots au fromage blanc de chèvre
("King of the Early" crepe with goat cheese)—I'm still enamored with using the beans as flour rather than whole.
The idea for this recipe came from my love for fresh chow fun, the Cantonese name for fried, fresh rice noodles. (The noodle, before it is cooked, is called ho fun in Cantonese.) Although I make chow fun at home, it is usually better in a restaurant where they have a much hotter pan to fix it in. The best was at a long‑gone restaurant named Andy's in downtown Mountain View, California. I think the restaurant has been gone since the early 1980s when modern Chinese food eliminated the touristy chop‑suey houses of the previous hundred years. I didn't like most food at Andy's, but I did like their pork chow fun. I'd sit at the counter and order a plate all for myself. I think the price was $3.95. What made their chow fun stand out was that the edges of the noodles were slightly brown and crispy.
Now, when I'm in a dim sum house I usually have the
ho fun
plain as a simple wide roll of noodle with a sweetened soy sauce drizzled over it. When I started to think about what to do with 4
1
⁄
2
pounds of beans, that dim sum dish was one of the first dishes that came to mind. After watching a couple of YouTube videos in various languages prepare normal, rice‑based
ho fun,
the process seemed possible with beans, and I headed to the kitchen.
1 T
coarse Aleppo pepper flakes
2 small
green onions, finely diced
dipping sauce:
1. Combine the flour and the water. Set aside for a few hours.
2. Add the starch and salt. Mix until smooth. Add the pepper and green onions. Mix.
3. Preheat a steamer. Prepare an 11‑ x 14‑cm (4
3
⁄
8
‑ by 5
1
⁄
2
‑in) cake pan with a removable bottom by spraying the bottom with vegetable oil.
4. Add 45 ml (3 T) of the batter to the pan, and place it in the steamer. The cake pan needs to be very level in order to produce a result with an even thickness. Cook the bean pancake for 10 minutes.
5. When cooked, set the cake pan in a shallow bowl of cold water. When cool, carefully peel the pancake off the surface of the pan. Holding the pancake by a long edge, roll it into a tight roll.
6. Set each roll aside while the others are being made.
7. When all the rolls are made, lightly brush the surfaces with vegetable oil. Freeze the rolls. Individually vacuum pack the frozen rolls.
8. To serve, heat a roll in its vacuum bag in hot water. Combine the dipping sauce ingredients.
9. Divide the dipping sauce between individual serving dishes. Unwrap the roll, and cut it into four pieces. Place a portion on each dish. Serve.
Yield: 5 rolls, each producing 4 portions.