August 10, 2015
Amuse-Bouche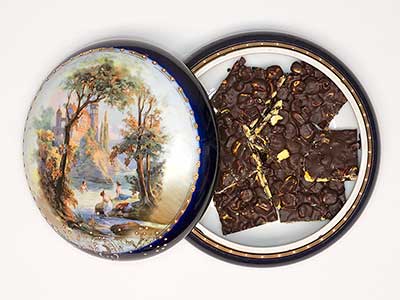 écorce de maïs
(corn bark)
I started drinking coffee when I was serving guard duty. The coffee was Nescafé. The place was the plain of Marathon, site of a decisive battle between the Athenians and the Persians fought in 490 BCE. The year of my guard duty was 1963. I was a Boy Scout, not a soldier.
I was one of 650 Scouts from the United States participating in the 11th World Jamboree. It was held the first eleven days of August of that year. In all, there were just over eleven thousand young men in short pants sitting around looking bored. There actually was many events planned for each day including a number of visits by dignitaries. Their presence didn't keep us from looking bored. Mostly, I remember meeting and horse‑trading with Scouts from different countries in the morning and drinking warm tea and warm beer with one group of British Scouts in the afternoon.
The India Tea Board gave a one‑pound can of Assam tea to each Scout in attendance. Each afternoon, my new‑found British friends steeped a canning‑pot full of tea, condensed milk, and sugar. The tea was often chased with a few bottles of beer. After a couple of hours of drinking the tea and beer and smoking whatever cigarettes were available, I'd shuffle back to my camp for dinner.
Although the goal of the Jamboree was to bring together Scouts from different backgrounds to learn from each other and form new friendships, there were fights between Scouts from some of the countries. Prior to boarding our planes to Europe, American Scouts went through a number of days of orientation at Fort Slocum, a doomed U.S. Army base that was to close only two years later. Part of the orientation was to teach us about how we should act around Scouts from different cultures and also in the countries we were travelling through. It was a relief for me that acting appropriately didn't exclude smoking or drinking.
After the first night, when a number of campsites were raided and various items stolen, our leaders decided that we should serve guard duty in two‑hour shifts from eleven in the evening until seven the next morning. Every fourth day, I did a two‑hour stint.
Guard duty consisted of sitting at one of the campsite tables, talking with the other guard, smoking cigarettes, and drinking Nescafé. Occasionally, one of us would walk the perimeter of our campsite to see if any of the tents had been disturbed. Before August 2nd, 1963, I didn't drink coffee. After that date, I did.
My mother drank Instant Sanka. After I returned home, that became the coffee I drank every morning before school. Before I had graduated high school, she switched to Taster's Choice, the freeze‑dried version of Nescafé. So freeze‑dried coffee became my morning drink of choice when I was home.
Back then, freeze‑drying was still a bit of a novelty. For me, it didn't really feel mainstream until Trader Joes started offering freeze‑dried strawberries a few years ago. Then I saw a
video
of Wylie Dufrense making his version shrimp grits. One of his ingredients was freeze‑dried corn. I had to find some. I had to buy some. Thanks to
Amazon
, I did. When it arrived two days later, I opened the bag, tasted a few kernels, closed the bag, and set it in my pantry. I had no idea as to what I would do with it. That was eight months ago.
Four months later, I was in Brooklyn. My wife suggested that I go over to the
Jacques Torres Chocolate
shop in DUMBO and buy some chocolates to bring back to our neighbor in California. In the store, next to the cash register, was a plate with a few pieces of chocolate bark for sampling. It was so good that I ditched my original purchase intentions and switched to the chocolate bark. My neighbor really, really liked it. I decided to make some for myself.
Chocolate bark seemed like it would be so simple that I didn't bother to consult any online sources. Plus, I was interested in making a savory version. Everyone makes a sweet version. Not me.
For the unsweetened chocolate, I used bulk wafers from Guittard. The
bar version
of the same chocolate would also work. For the
Aleppo pepper
, I use a brand that comes as soft flakes. It's not a fine, ground powder. I like the Aleppo pepper because the hotness comes as almost an after thought. With this bark, you first taste the bitterness of the chocolate and the sweetness of the corn before the heat of the pepper kicks in.
1. Tape the edges of a quarter‑size silicone pan liner to a smooth countertop or the backside of a rimmed baking sheet.
2. Melt the chocolate in a bowl over simmering water. When fully melted, remove the bowl from the heat, and stir in the corn and pepper. Continue stirring until the corn and pepper are well coated.
3. Pour the chocolate mixture onto the pan liner. Using an offset spatula, spread the mixture into a thick rectangle. Allow chocolate to cool in place.
4. When the chocolate is cold and hard, use a pizza cutter and a metal straight edge to cut the bark into even pieces. Refrigerate the pieces of bark in a sealed container until needed.
Yield: 16 pieces.