August 24, 2015
Amuse-Bouche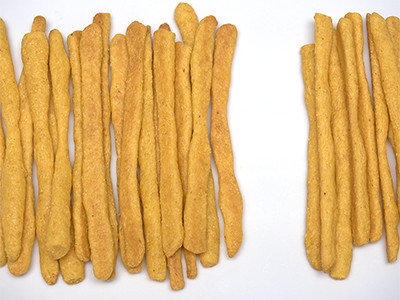 pailles au fromage
(cheese straws)
One of the curious books I remember occupying the built‑in bookshelf in my father's home office was
The Americanization of Edward Bok
. Opposite the title page was a photograph of the author. Below that was his signature. The photograph depicts a middle‑aged man with graying temples and hair parted slightly to the left of center. He is wearing a stiff front shirt with a detachable, Murray Hill‑style collar and a bow tie. Under his suit jacket is a vest buttoned high. A white handkerchief adorns the left breast pocket of his coat. His arms are crossed. His right hand must be tucked in somewhere because his shirt cuff is clearly visible, but his hand seems to be missing. He is sitting upright in an office‑style arm chair with his weight slightly on his right elbow. He is not smiling, but nonetheless he looks kind.
Americanization, which won the Pulitzer Prize for autobiography in 1921, had just enough pictures to make my adolescent mind curious. I would sit in my father's overstuffed, green‑leather arm chair with its matching ottoman and finger my way through the book. It was the same chair my father would nap in each evening after his commute home from work. His nap would end when my mother called us for dinner. I may have finally read the book as a teenager, but I have no memory of doing so.
For thirty years at the turn of the twentieth century, Edward Bok was the editor of The Ladies' Home Journal. His mother‑in‑law was Louisa Knapp, who, in 1883, founded the magazine. Up until 1886, it was called The Ladies' Home Journal and Practical Housekeeper. Although Bok became editor in 1889, Knapp continued to edit a column for the magazine called "The Practical Housekeeper." This activity apparently continued until 1907, three years before Knapp's death at the age of 59.
One evening, when I was looking for early recipes of "French Dressing," I stumbled across a collection of the initial issues of The Ladies' Home Journal. On page 24 of the April, 1891, issue in Louisa Knapp's column was an article by Ellen Conway titled "Twelve Lenten Lunches Contributed in Two Practical Papers." The seven menus in April's article formed the second of the two "papers."
The first menu consisted of Oysters en Bloc, Lettuce, Cheese Straws, Sliced Pineapple, and Shrewsbury Cakes. Most of the first recipe concerned the "bloc" rather than the oysters. It was a method of melting a rectangular cavity into a block of ice using bricks first heated in the oven. Raw oysters were then served in the cavity in the block of ice. The "Lettuce" was simply lettuce with a "French" dressing, merely a simple vinaigrette. The "Sliced Pineapple" was nothing more than sliced pineapple sprinkled with sugar and iced for an hour. The cook was cautioned to slice the pineapple with a silver knife. This time period was still prior to stainless steel knives, and the acid in the pineapple would have reacted with an ordinary steel knife of the day. The Shrewsbury Cakes were nothing more than butter cookies from the seventeenth century. The remaining recipe was for the Cheese Straws, which I assume were served as an accompaniment to the salad.
Cheese Straws—Mix together four tablespoons of flour, a pinch of salt, a very little cayenne pepper, and three ounces of grated English cheese. Add the beaten yolk of an egg, and then enough iced water to make a stiff paste. Roll the paste out on a board into a sheet an eighth of an inch thick. Cut the paste into strips an eighth of an inch wide and five inches long, and bake them about ten minutes in a very hot oven. They should be a very light brown. If you have any scraps of paste left, roll them into a sheet, and cut it into small rings. Bake them and slip little bundles of the straws through them.
And so I did. Except the first time I made these I didn't have any English cheese. Some Norwegian cheese had to suffice. Everything worked, but the straws were too fragile at the size specified. When I made the recipe the second time, besides using English cheese, I rolled portions of the dough into long, thin sticks. These baked up fine and even rose a bit compared to the first batch. The quantities listed above produced between 24 and 30 straws. Each straw was about 5 mm (
3
⁄
16
in) in diameter and 15 cm (6 in) long. I decided that three straws was an appropriate, single
amuse‑bouche
serving.
85 g (3 oz)
grated, sharp cheddar cheese
1. Preheat oven to 220 °C (430 °F).
2. Place the flour, salt, cayenne, and cheese into the bowl of a mini food processor. Process the mixture until the cheese is finely grated, and the mixture resembles sand. Add the yolk, and process some more. If the dough doesn't pull together into a ball, add a teaspoonful of cold water, and process some more. If it still doesn't pull together into a ball, add an additional teaspoon of cold water, and process it into the dough.
3. Using a 1‑T scoop, divide the dough into 12 to 15 balls. Roll each ball into a 30‑cm (12‑in) long by 5‑mm (
3
⁄
16
‑in) diameter rope. Cut each rope into two, and arrange on a baking sheet lined with a silicone‑rubber liner.
4. Bake the straws until their surfaces are firm and the bottoms start to brown, about 10 minutes. Cool the straws on a rack.
Note: If not serving right away, freeze the straws. Reheat before serving.