September 14, 2015
Amuse-Bouche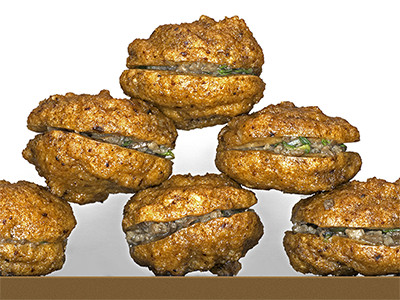 macarons de cèpes
(porcini macaroons)
The date was October, 1994. It was my first trip to Paris. It was my first trip to France. It was a life‑changing eight days. Although it would be another three years before my true obsession with French food would start, this first visit definitely marked the end of my obsession with Chinese food.
Almost daily during our stay, my wife and I walked through the market area of rue de Seine and rue de Buci just north of boulevard Saint‑Germain. We always stopped and stared at the vegetables on display. There wasn't too many fellow tourists to compete with for space on the asphalt. The season was over, and the weather was damp and chilly. The fruits and vegetables looked amazing. Better than I had ever seen in California. The vendors took the time to talk with us. I longed to buy an armful and cook up a storm.
The one vegetable that still stands out in my mind from that first visit was the cèpes. What Italians and Americans call porcini mushrooms, and the whole world knows as Boletus edulis, the French call cèpes. The cèpes in 1994 were big, maybe as much as 15 cm (6 in) across their heads. Each day they disappeared by closing time and new ones reappeared the next afternoon. They were inexpensive, not much more than ordinary mushrooms in California. They were gorgeous.
The closest I came to cèpes in California was buying dried porcinis at a local Italian‑American delicatessen. In those days, there were certain products I'd buy at Molinari Delicatessen on Columbus Avenue near the corner of Vallejo Street in San Francisco. It was a 45‑minute drive each and there was a charge for parking, but back then there were many products I couldn't get closer to home. A one‑pound, cellophane bag of dried porcini mushrooms at Molinari cost $49. Closer to home, all that was available was one‑ounce, cellophane bags for about $10 each.
For me, a one‑pound bag of dried mushrooms is easily a year's supply. Dried porcini mushrooms deteriorate at temperatures above 25 °C (77 °F) so the preferred, long‑term storage space is a freezer. I transferred the mushrooms from their cellophane bag to a plastic freezer bag, and put it in the freezer. Each time I opened the freezer, I noticed that the bag was all puffed up, and there was a pile of porcini dust in the bottom of the bag. The freezing seemed to make the dried mushrooms more brittle. By the time I used three‑fourths of the bag, there was essentially no unbroken mushroom slices left. At that point, I ground all the remaining mushrooms into a powder. I still don't know why the bags always puffed up.
This season, more than twenty years since I first saw fresh cèpes in France, I'm now finding them fresh at my local vegetable purveyor for a reasonable price. I was so thrilled that I bought a few without even knowing what I would do with them. Now I had Boletus edulis in both fresh and powdered form. Almost immediately, I began to think about making a savory macaroon.
A check of the Internet didn't yield any macaroon recipes made with porcini mushrooms. It also didn't yield any savory macaroon recipes that didn't incorporate a far amount of sugar. My definition of savory seems to be different from the rest of the world. It would be necessary to create a recipe from scratch. Which I did.
dough:
porcini mushroom powder, strained
1 large (30 g)
egg white, beaten to loosen
1 large (30 g)
egg white, beaten to soft peak
filling:
1 T
very finely diced porcini mushroom cap
1 sprig
fresh thyme leaves
1. Combine the almond flour, porcini powder, salt, and loose egg white. Fold the mixture into the egg white beaten to a soft peak. Transfer the dough to a pastry tube fitted with a 5‑mm (
3
⁄
16
‑in) tip.
2. Pipe 3‑cm (1
3
⁄
16
‑in) round cookies onto a parchment paper‑lined, rimmed baking sheet. Bang the baking sheet against the counter a few times. Place the baking sheet on a second one, and set the uncooked cookies aside for about 30 minutes.
3. Preheat oven to 150 °C (300 °F).
4. Bake the cookies until firm and starting to brown, about 20 minutes.
5. While the cookies are baking, combine the filling ingredients in a small saucepan over low heat. Cook until the mushrooms release their water, and it has evaporated. Set the mixture aside to cool.
6. Pair the macaroons by size and shape. Place a little of the filing on the flat side of one of the cookies, and press it together with it matching pair.
7. Refrigerate the cookies to solidify the filling.
Yield: 8 to 10 cookies.