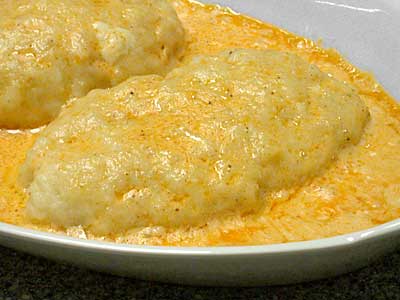 quenelle de brochet, sauce nantua
beurre d'écrevisses:
200 g (1⁄2 lb)
whole crayfish, intestine removed
quenelle de brochet:
35 g (1⁄4 c)
all‑purpose flour
60 g (1⁄4 c)
melted butter
fine salt, freshly ground black pepper, and freshly ground nutmeg
250 g (1⁄2 lb)
pike flesh, or other white fish, finely ground
1 extra‑large
egg white, beaten
sauce nantua:
100 ml (scant 1⁄2 c)
whole milk
fine salt, freshly ground black pepper, and freshly ground nutmeg
50 g (13⁄4 oz)
crayfish butter
1. For beurre d'écrevisses: Melt the butter in a saucepan over medium heat. Add the crayfish and mix. Cook the crayfish until red and the meat is barely cooked. Remove the saucepan from the heat.
2. When cool enough to handle, separate the tails from the bodies of the crayfish. Peel the tails and set the meat aside for other uses. Place the bodies and shells, along with the butter, in a food processor. Process the mixture until smooth. Return the mixture to the saucepan along with the water. Bring to a boil. Strain through a chinois into a bowl.
3. Refrigerate until the butter floats to the top and solidifies. Separate the butter from the water. Discard the water.
4. For quenelle de brochet: Pdeep bowl. Mix with a wooden spatula until very smooth. Bring the milk to a boil and slowing beat into the flour mixture. Chill.
5. Incorporate the panade into the ground fish, a little at a time. Add the remaining 45 grams of melted butter followed by the egg white. Season with salt, pepper, and nutmeg. Chill for a couple of hours.
6. Sprinkle a baking sheet with flour. Using 100‑g (31⁄2 oz) portions, form the fish paste into 10‑cm (4‑in) long quenelles and place on the baking sheet.
7. For sauce nantua: Melt the butter in a small saucepan. Mix in the flour and cook for awhile without browning. Whisk in the milk and simmer for about 5 minutes. Whisk in the cream and cognac. Season with salt, pepper, and nutmeg. Whisk in the crayfish butter. Set aside until needed.
8. To finish the preparation, reheat the oven to 180°C (355°F).
9. Bring a large saucepan of salted water to a boil. Cook the quenelles for about 5 minutes, turning about halfway through. Drain on a cloth.
10. Spoon a little of the sauce over the bases of the individual baking dishes. Divide the quenelles between the dishes and spoon the remaining sauce over the top. Bake for about 15 minutes. Serve immediately.
Yield: 2 servings.
Ref: for quenelles: Jean‑Marie Fonteneau, Meilleures recettes des bouchons de Lyon, page 18; for sauce: Anne‑Marie Gauthier, Recueil da la Gastronomie Lyonnaise, page 21.
©2003, 2014 Peter Hertzmann. All rights reserved.